Gospel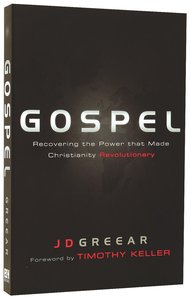 Could the gospel be lost in evangelical churches? In this book, J.D. Greear shows how moralism and legalism have often eclipsed the gospel, even in conservative churches. Gospel cuts through the superficiality of religion and reacquaints you with the revolutionary truth of God's gracious acceptance of us in Christ. The gospel is the power of God, and the only true source of joy, freedom, radical generosity, and audacious faith. The gospel produces in us what religion never could: a heart that desires God.

The book's core is a "gospel prayer" by which you can saturate yourself in the gospel daily. Dwelling on the gospel will release in you new depths of passion for God and take you to new heights of obedience to Him. Gospel gives you an applicable, exciting vision of how God will use you to bring His healing to the world.



- Publisher Even in conservative churches, the Gospel has been eclipsed by moralism and legalism. J.D. Greear's new book, simply titled "Gospel," cuts through the superficiality of religion and reacquaints readers with the revolutionary truth of the Gospel. Grasping what the Gospel shows us about God leads us from a life of self-involvement to one of joy, freedom, radical generosity and audacious faith. Sin is not overcome by a resolution to do better, but by standing in awe of what God has done for us in Christ.
God is not just after obedience. He's after a new kind of obedience, and that obedience is produced only by the Gospel.
The core of this book is a "Gospel prayer" Greear wrote for his church, celebrating God's faithfulness, presence, love and promise. It goes to war against the incipient works-righteousness and idolatry in our hearts, and leads us to radical generosity and audacious faith. It gives readers an appli- cable, exciting vision of how God might use them to bring His healing to the world.

- Publisher
You May Also Be Interested In
About "Gospel"
Could the gospel be lost in evangelical churches? In this book, J.D. Greear shows how moralism and legalism have often eclipsed the gospel, even in conservative churches. Gospel cuts through the superficiality of religion and reacquaints you with the revolutionary truth of God's gracious acceptance of us in Christ. The gospel is the power of God, and the only true source of joy, freedom, radical generosity, and audacious faith. The gospel produces in us what religion never could: a heart that desires God.

The book's core is a "gospel prayer" by which you can saturate yourself in the gospel daily. Dwelling on the gospel will release in you new depths of passion for God and take you to new heights of obedience to Him. Gospel gives you an applicable, exciting vision of how God will use you to bring His healing to the world.


- Publisher

Even in conservative churches, the Gospel has been eclipsed by moralism and legalism. J.D. Greear's new book, simply titled "Gospel," cuts through the superficiality of religion and reacquaints readers with the revolutionary truth of the Gospel. Grasping what the Gospel shows us about God leads us from a life of self-involvement to one of joy, freedom, radical generosity and audacious faith. Sin is not overcome by a resolution to do better, but by standing in awe of what God has done for us in Christ.
God is not just after obedience. He's after a new kind of obedience, and that obedience is produced only by the Gospel.
The core of this book is a "Gospel prayer" Greear wrote for his church, celebrating God's faithfulness, presence, love and promise. It goes to war against the incipient works-righteousness and idolatry in our hearts, and leads us to radical generosity and audacious faith. It gives readers an appli- cable, exciting vision of how God might use them to bring His healing to the world.
- Publisher


Meet the Authors
J D Greear
J.D. Greear, PhD, is an author and the lead pastor at the Summit Church in North Carolina, one of the top 20 fastest growing churches in America. His books include Breaking the Islam Code (Harvest House) and GOSPEL: Recovering the Power that Made Christianity Revolutionary (B&H).

Timothy Keller (Fwrd)
Timothy Keller is the founding pastor of Redeemer Presbyterian Church in Manhattan, which he started in 1989 with his wife, Kathy. For over twenty-five years he has led a diverse congregation of young professionals that has grown to a weekly attendance of over 5,000.

He is also Chairman of Redeemer City to City, which starts new churches in New York and other global cities, and publishes books and resources for faith in an urban culture. In ten years they helped to launch over 250 churches in 48 cities. More recently, Dr. Keller's books - including the New York Times bestselling The Reason for God, The Prodigal God, and Prayer: Experiencing Awe and Intimacy with God - have sold over 1 million copies and been translated into 15 languages.

Tim was born in 1950, raised in Pennsylvania, and educated at Bucknell University, Gordon-Conwell Theological Seminary, and Westminster Theological Seminary. He previously served as the pastor of West Hopewell Presbyterian Church in Hopewell, Virginia, Associate Professor of Practical Theology at Westminster Theological Seminary, and Director of Mercy Ministries for the Presbyterian Church in America.

Tim and his wife Kathy have three adult sons.