Grace Behind Bars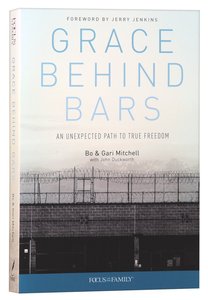 It was being landed in a federal prison cell that set businessman Bo Mitchell on the path to true freedom. At the same time, his wife Gari struggled with her own prison of clinical depression. Readers will see how the couple ultimately grew closer to God and each other behind the bars of their trials.
You May Also Be Interested In
About "Grace Behind Bars"
It was being landed in a federal prison cell that set businessman Bo Mitchell on the path to true freedom. At the same time, his wife Gari struggled with her own prison of clinical depression. Readers will see how the couple ultimately grew closer to God and each other behind the bars of their trials.
- Koorong

:Grace Behind Bars shares the true and dramatic account of how Bo Mitchell, businessman and chaplain for the Denver Nuggets, inexplicably ended up in federal prison only to find God's true freedom behind bars. Ironically, it's in a six-by-nine-foot cell that God begins to free this driven Christian leader from his prison of performance and success. In the end, Bo realizes that God's love is a gift, not something he must earn.

But there's more to the story: Just before Bo enters prison, his wife, Gari, becomes incapacitated by a brain illness and enters her own prison of clinical depression.

Readers will see how the couple struggled together as their world fell apart, yet ultimately grew closer to each other and God behind the bars of their trials. This story will not only inspire and encourage readers, it will show them how they, too, can find spiritual freedom in life's ?prisons? if they choose to see God's hand in their lives.
- Publisher