Great Commission Companies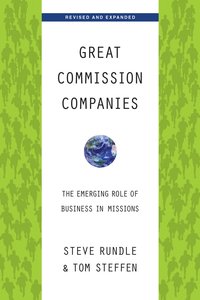 Business as mission has emerged as a significant new model for mission in the twenty-first century. Today's globalized economy has created strategic opportunities for Christian business enterprises in some of the most unlikely corners of the world. In this landmark book, economist Steve Rundle and missiologist Tom Steffen offer their paradigm for the convergence of business and missions--the Great Commission Company. Such companies intentionally create businesses in strategic locations, pursuing profits while remaining unabashedly Christian in their purpose. By establishing authentic businesses that employ local workers among the least-reached peoples of the world, they contribute to the economic health of the immediate community and also provide avenues for both physical and spiritual ministry. In an era where multinational corporations have global influence and impact, the Great Commission Company opens up new possibilities for missions-minded entrepreneurs and businesspeople who want to change the world to the glory of God. This revised and expanded edition provides new and updated case studies of Great Commission Companies in diverse contexts around the world.

- Publisher
You May Also Be Interested In
About "Great Commission Companies"
Business as mission has emerged as a significant new model for mission in the twenty-first century. Today's globalized economy has created strategic opportunities for Christian business enterprises in some of the most unlikely corners of the world. In this landmark book, economist Steve Rundle and missiologist Tom Steffen offer their paradigm for the convergence of business and missions--the Great Commission Company. Such companies intentionally create businesses in strategic locations, pursuing profits while remaining unabashedly Christian in their purpose. By establishing authentic businesses that employ local workers among the least-reached peoples of the world, they contribute to the economic health of the immediate community and also provide avenues for both physical and spiritual ministry. In an era where multinational corporations have global influence and impact, the Great Commission Company opens up new possibilities for missions-minded entrepreneurs and businesspeople who want to change the world to the glory of God. This revised and expanded edition provides new and updated case studies of Great Commission Companies in diverse contexts around the world.
- Publisher


Meet the Authors
Steven Rundle
Steve Rundle (Ph.D., Claremont Graduate University)is associate professor of economics and business as mission at Biola University in La Mirada, California. His teaching and research interests are focused on the intersection between international economics and faith-based business. He is also the editor of Economic Justice in a Flat World: Christian Perspectives on Globalization and He has coauthored a book Great Commission Companies: The Emerging Role of Business in Missions (InterVarsity Press, 2011) that shows how globalization is opening up new opportunities for ministry-minded businesspeople. He also assists or has co-founded several organizations that aim to see Christian-owned businesses prosper in less-developed countries.
Koorong -Editorial Review.
Tom Steffen
Tom Steffen (D.Miss., Biola University) is professor of intercultural studies at Biola University and director of the doctor of missiology program. Dr. Steffen served 20 years with New Tribes Mission, 15 of those in the Philippines. He is the author of a number of missionary texts including Great Commission Companies: The Emerging Role of Business in Missions; Reconnecting God's Story to Ministry: Cross-cultural Storytelling at Home and Abroad; Encountering Missionary Life and Work: Preparing for Intercultural Ministry and Passing the Baton: Church Planting that Empowers.
Table Of Contents
Business As Mission Has Emerged As A Significant New Model For Mission In The Twenty-first Century. Today's Globalized Economy Has Created Strategic Opportunities For Christian Business Enterprises In Some Of The Most Unlikely Corners Of The World. In This Landmark Book, Economist Steve Rundle And Missiologist Tom Steffen Offer Their Paradigm For The Convergence Of Business And Missions--the Great Commission Company. Such Companies Intentionally Create Businesses In Strategic Locations, Pursuing Profits While Remaining Unabashedly Christian In Their Purpose. By Establishing Authentic Businesses That Employ Local Workers Among The Least-reached Peoples Of The World, They Contribute To The Economic Health Of The Immediate Community And Also Provide Avenues For Both Physical And Spiritual Ministry. In An Era Where Multinational Corporations Have Global Influence And Impact, The Great Commission Company Opens Up New Possibilities For Missions-minded Entrepreneurs And Businesspeople Who Want To Change The World To The Glory Of God. This Revised And Expanded Edition Provides New And Updated Case Studies Of Great Commission Companies In Diverse Contexts Around The World.

part 1: Principles Of Great Commission Companies

1 The Good News About Globalization

2 Toward A Definition Of A Great Commission Company

3 Globalization And Business

4 Globalization And Missions

5 Turning Vision Into Action

6 Sustaining Success

part 2: Great Commission Companies In Practice

7 The Silk Road Handicraft Company

8 Bajalia Trading Company/bajalia International Group

9 Little Texas

10 Global Engineering And Management Solutions

11 Olive Technology

12 Pura Vida Coffee

Conclusion

Appendix: Selected Resources For Further Research

Notes

Name And Subject Index

Scripture Index