Greater Expectations (Frames Barna Group Series)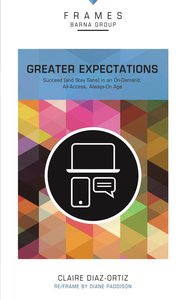 Remember when all you needed was a cool business card for cocktail parties? Now social status is determined in a hundred ways that all come with their own pressures-how many Twitter followers do you have? How many facebook page likes? How much traffic does your site get? Are you speaking? Traveling? How full is your inbox? While pressure has always been there, in many ways that pressure is more public than ever. The world is both bigger and smaller today. With access to so much media and so quickly, we know everything that's going on in the world. We are bombarded with possibilities and opportunities. It seems like we have limitless choices. It's easy to feel like your life is small, that you aren't doing enough, that other lives, careers, and even cities are more exciting than yours. The challenge today is, with limitless public pressure on how your life measures up against everyone else's, how do you find contentment in this context? Join Claire Diaz-Ortiz, an author, speaker, and Twitter employee, in this Barna Frame as she explores this timely issue.

- Publisher
You May Also Be Interested In
About "Greater Expectations (Frames Barna Group Series)"
Remember when all you needed was a cool business card for cocktail parties? Now social status is determined in a hundred ways that all come with their own pressures-how many Twitter followers do you have? How many facebook page likes? How much traffic does your site get? Are you speaking? Traveling? How full is your inbox? While pressure has always been there, in many ways that pressure is more public than ever. The world is both bigger and smaller today. With access to so much media and so quickly, we know everything that's going on in the world. We are bombarded with possibilities and opportunities. It seems like we have limitless choices. It's easy to feel like your life is small, that you aren't doing enough, that other lives, careers, and even cities are more exciting than yours. The challenge today is, with limitless public pressure on how your life measures up against everyone else's, how do you find contentment in this context? Join Claire Diaz-Ortiz, an author, speaker, and Twitter employee, in this Barna Frame as she explores this timely issue.
- Publisher


Meet the Authors
Barna Group
In its 30-year history, Barna Group has conducted more than one million interviews over the course of hundreds of studies, and has become a go-to source for insights about faith and culture, leadership and vocation, and generations. Barna Group has carefully and strategically tracked the role of faith in America, developing one of the nation's most comprehensive databases of spiritual indicators. Notable clients include the Salvation Army, World Vision, Habitat for Humanity, Sony, Walden Media, Easter Seals, the Humane Society, the Gates Foundation, and NBC Universal. The firm's research is often quoted in major media outlets such as CNN, USA Today, the Wall Street Journal, Fox News, Chicago Tribune, Huffington Post, the New York Times, Dallas Morning News, and the Los Angeles Times.
Other Titles In The "Frames Barna Group Series" Series View All