Grey Matters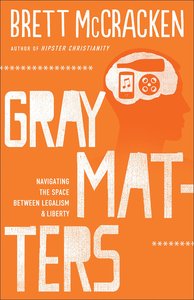 Culture is in right now for Christians. Engaging it, embracing it, consuming it, and creating it. Many (younger) evangelicals today are actively cultivating an appreciation for aspects of culture previously stigmatized within the church. Things like alcohol, Hollywood's edgier content, plays, art openings, and concerts have moved from being forbidden to being celebrated by believers. But are evangelicals opening their arms too wide in uncritical embrace of culture? How do they engage with culture in ways that are mature, discerning, and edifying rather than reckless, excessive, and harmful? Can there be a healthy, balanced approach--or is that simply wishful thinking?

With the same insight and acuity found in his popular Hipster Christianity, Brett McCracken examines some of the hot-button grey areas of Christian cultural consumption, helping to lead Christians to adopt a more thoughtful approach to consuming culture in the complicated middle ground between legalism and license. Readers will learn how to both enrich their own lives and honor God--refining their ability to discern truth, goodness, beauty, and enjoy his creation.

- Publisher
You May Also Be Interested In
About "Grey Matters"
Culture is in right now for Christians. Engaging it, embracing it, consuming it, and creating it. Many (younger) evangelicals today are actively cultivating an appreciation for aspects of culture previously stigmatized within the church. Things like alcohol, Hollywood's edgier content, plays, art openings, and concerts have moved from being forbidden to being celebrated by believers. But are evangelicals opening their arms too wide in uncritical embrace of culture? How do they engage with culture in ways that are mature, discerning, and edifying rather than reckless, excessive, and harmful? Can there be a healthy, balanced approach--or is that simply wishful thinking?

With the same insight and acuity found in his popular Hipster Christianity, Brett McCracken examines some of the hot-button grey areas of Christian cultural consumption, helping to lead Christians to adopt a more thoughtful approach to consuming culture in the complicated middle ground between legalism and license. Readers will learn how to both enrich their own lives and honor God--refining their ability to discern truth, goodness, beauty, and enjoy his creation.
- Publisher


Meet the Author
Brett Mccracken
Brett McCracken is a graduate of Wheaton College and UCLA. His day job is managing editor for Biola University's Biola magazine. He regularly writes movie reviews and features for Christianity Today, as well as contributing frequently to Relevant magazine. He comments on movies, media, and popular culture issues at his blog, The Search, http://stillsearching.wordpress.com/. He lives in Los Angeles.