Grieving the Loss of a Loved One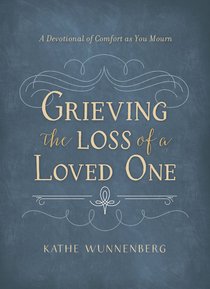 Losing a loved one is painful and overwhelming. As a mother who has suffered with loss on many levels, Kathe Wunnenberg knows from firsthand experience that there are no easy answers for those who mourn. Her tender and comforting devotions will help you deal with your grief and find hope and strength in God. Grieving the Loss of a Loved One is a devotional for those who know the acute heartache that accompanies loss. Using Scripture verses from multiple translations, these thoughtful devotions will help you walk through the stages of grief, as well as offer specific encouragement for holidays, birthdays, and special occasions, when grief can be particularly painful. You will walk away from the short thematic devotions and feel validated and understood, and renewed hope in the God who promises to never leave you."

- Publisher
You May Also Be Interested In
About "Grieving the Loss of a Loved One"
Losing a loved one is painful and overwhelming. As a mother who has suffered with loss on many levels, Kathe Wunnenberg knows from firsthand experience that there are no easy answers for those who mourn. Her tender and comforting devotions will help you deal with your grief and find hope and strength in God. Grieving the Loss of a Loved One is a devotional for those who know the acute heartache that accompanies loss. Using Scripture verses from multiple translations, these thoughtful devotions will help you walk through the stages of grief, as well as offer specific encouragement for holidays, birthdays, and special occasions, when grief can be particularly painful. You will walk away from the short thematic devotions and feel validated and understood, and renewed hope in the God who promises to never leave you."
- Publisher


Meet the Author
Kathe Wunnenberg
Kathe Wunnenberg is a speaker and writer known for her ability to connect with people and offer them hope. The author of two books, Grieving the Loss of a Loved One and Grieving the Child I Never Knew, she speaks on such topics as loss, leadership, faith in the workplace, mentoring/networking, transitions, prayer, and encouragement. She holds a Bachelor's degree in journalism from the University of Missouri and a Master's degree in Business Administration from the University of Phoenix. She lives in Phoenix, Arizona, with her husband, Rich, and their three children.