Grieving With Hope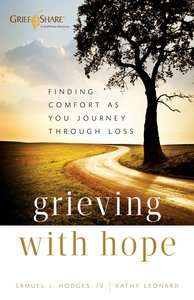 Practical and straightforward, yet warm and compassionate, Grieving with Hope clarifies the popular misconception that people move through stages of grief. This will be an encouragement to many, as grieving people often think something is wrong with them when their grief doesn't proceed neatly through stages. The reality is that grieving people jump back and forth between different emotions, sometimes wrestling with multiple emotions at once.

This book is packed with short, biblically based, gospel-centered, topical chapters addressing the issues grieving people face but are often hesitant to mention to others. It helps readers accurately interpret the message their emotions are sending them and gently guides them to determine whether they're grieving in a way that leads to hope and ultimate healing. Developed from interviews with over 30 well-respected Christian counselors, teachers, and authors, as well as numerous personal testimonies, Grieving with Hope helps the bereaved discover how hope and peace are available amidst their heartache and pain.

- Publisher
You May Also Be Interested In
About "Grieving With Hope"
Practical and straightforward, yet warm and compassionate, Grieving with Hope clarifies the popular misconception that people move through stages of grief. This will be an encouragement to many, as grieving people often think something is wrong with them when their grief doesn't proceed neatly through stages. The reality is that grieving people jump back and forth between different emotions, sometimes wrestling with multiple emotions at once.

This book is packed with short, biblically based, gospel-centered, topical chapters addressing the issues grieving people face but are often hesitant to mention to others. It helps readers accurately interpret the message their emotions are sending them and gently guides them to determine whether they're grieving in a way that leads to hope and ultimate healing. Developed from interviews with over 30 well-respected Christian counselors, teachers, and authors, as well as numerous personal testimonies, Grieving with Hope helps the bereaved discover how hope and peace are available amidst their heartache and pain.
- Publisher


Meet the Author
Kathy Leonard
Kathy Leonard has been writing and editing for more than fifteen years. After graduating with a degree in English from the University of Maryland Asian Division in Okinawa, Japan, Kathy moved with her Air Force husband, Tim, to England. Kathy later moved to North Carolina, where she worked as a high school English teacher and was later hired by The Church Initiative and is now its editorial director.