Growing God's Church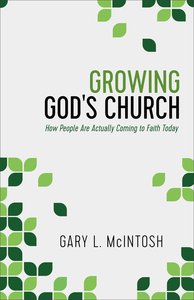 :It's no secret that the evangelism methods of yesterday are not yielding the kinds of results they did in the 1970s and 1980s. So how are new Christians hearing the Gospel today? How are they finding churches? And what makes them stay at a church? The answers to these questions have the power to dramatically alter the way we do outreach. And Dr. McIntosh has them.

Based on ten years of scientific research, Growing God's Church shows pastors and church leaders how people are actually coming to faith in the 21st century. It covers factors such as our motive for ministry, the priorities churches set for themselves, the reality of churchless Christians, generational and gender-based differences in evangelism effectiveness, the name of your church, the influence of pastors, and much more. The appendix includes a copy of the survey that provides the basis for McIntosh's arguments and an overview of the study is provided in the first chapter.

- Publisher
You May Also Be Interested In
About "Growing God's Church"
:It's no secret that the evangelism methods of yesterday are not yielding the kinds of results they did in the 1970s and 1980s. So how are new Christians hearing the Gospel today? How are they finding churches? And what makes them stay at a church? The answers to these questions have the power to dramatically alter the way we do outreach. And Dr. McIntosh has them.

Based on ten years of scientific research, Growing God's Church shows pastors and church leaders how people are actually coming to faith in the 21st century. It covers factors such as our motive for ministry, the priorities churches set for themselves, the reality of churchless Christians, generational and gender-based differences in evangelism effectiveness, the name of your church, the influence of pastors, and much more. The appendix includes a copy of the survey that provides the basis for McIntosh's arguments and an overview of the study is provided in the first chapter.
- Publisher


Meet the Author
Gary L Mcintosh
Gary L. McIntosh (Ph.D., Fuller Theological Seminary; D.Min., Fuller Theological Seminary) is professor of Christian ministry and leadership at Talbot School of Theology, he leads 20-25 national seminars a year, serves as a church consultant, was president of the American Society of Church Growth in 1995-1996, and has written numerous books, including Finding Them; The Issachar Factor: Three Generations: One Size Doesn't Fit All; Overcoming the Dark Side,; Staffing Your Church for Growth and most recently Taking your Church to the Next Level
Koorong -Editorial Review.