Growing Strong Daughters (2nd Edition)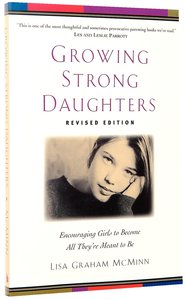 Concerned about current confusion over female roles, Lisa McMinn discusses what it means for parents to raise strong, confident girls. She argues that liberating, biblical norms should replace the culturally based notions of gender that hold sway today.
You May Also Be Interested In
About "Growing Strong Daughters (2nd Edition)"
Concerned about current confusion over female roles, Lisa McMinn discusses what it means for parents to raise strong, confident girls. She argues that liberating, biblical norms should replace the culturally based notions of gender that hold sway today.
- Koorong

Today??'s culture offers broadening opportunities for women; yet it still pressures them to fit long-standing stereotypes. McMinn challenges parents, teachers, churches, and civic communities to create a social environment that nurtures strong, confident girls. Combining careful research with personal experience, McMinn takes a thoughtful look at gender differences and patterns limiting women??'s full participation in society. She discusses what it means to raise strong daughters made in the image of God and covers the various aspects of strength???confidence, interdependence, voice, and self-image.
- Publisher

Praise for the first edition:"This is one of the most thoughtful and sometimes provocative parenting books we've read. If you are wanting to be an effective parent in our contemporary culture, the practical advice and biblical insights of Growing Strong Daughters will help you reach that goal."--Les and Leslie Parrott, authors, Relationships"Reading Growing Strong Daughters has not only been a delight but a revelation. This is not merely a good book--this is a great book. McMinn successfully weds solid spiritual insights with the best of current sociological and psychological study in order to help us understand how our culture is shaping our daughters. Page after page is filled with researched facts, solid wisdom and practical suggestions for how we can counter the debilitating cultural forces of the modern world. This is a book that every parent should read--whether you have daughters or sons. And this is a book that needs to be in the hands of every high school and college-age young woman today who needs to unmask these cultural forces and be empowered to be all that God has created her to be. Men who read McMinn, especially young men and fathers, will become allies of their daughters, sisters, and female friends as they work to become co-saboteurs, resisting the broken cultural trends of our day. Growing Strong Daughters is perhaps the most compelling Christian book that most of us will read this year. But beware: it will fill your heart with outrage and compassion and hope and you may regret you did not have it to study from the very first day you became a parent."--Gary M. Burge, Ph.D., Wheaton College"As a college-level sociology teacher and the mother of three daughters, Lisa McMinn has given us a book that is full of practical wisdom based on a solid Christian world view. The inclusion of a chapter by her husband, psychologist Mark McMinn, makes it even richer. This book will be of great help to Christian parents and other mentors of young women who care deeply about developing all aspects of their potential."--Mary Stewart Van Leeuwen, Eastern College"Lisa McMinn has gifted us with a provocative book dedicated to growing daughters into strong, competent, fulfilled women for the glorious endurance of life. The 'Image-of-God-Likeness' is the essence of who we are and whose we are. This unique call emerges when women become responsible co-stewards of God's creation. The 'little engine that could' message resonates through every chapter, offering practical ways for mothers to expand and empower their daughters' view and potential. Themes like having a voice worth listening to, embracing differences with equality, interdependence, physical and sexual essence are just a few ways one bears the image of God. Reading this book will truly make a difference for mothers and daughters, and this will make a difference in our world!"--Judy and Jack Balswick, associate and full professors, Fuller Theological Seminary"Lisa McMinn has written a delightful book that will help parents relate to their daughters and build them up in Christ. Her innovative work is a significant contribution to the growing literature in this area. I'm delighted to recommend this marvelous book to all who care about the girls and young women in their lives."--Sandra D. Wilson, author, Released from Shame
- Publisher


Meet the Author
Lisa Graham Mcminn
Lisa Graham McMinn (Ph.D., Portland State University) is professor of sociology in the department of sociology and social work at George Fox University in Oregon. Her other books include Growing Strong Daughters (Baker); Sexuality and Holy Longing (Jossey-Bass); The Contented Soul (InterVarsity Press) and Walking Gently on the Earth: Making Faithful Choices About Food, Energy, Shelter and More. Her articles have appeared in Journal of Psychology and Christianity, Sociology of Religion, Journal of Psychology and Theology, Research on Christian Higher Education, and Christianity Today.