Growing Your Own Turtleneck and Other Benefits of Aging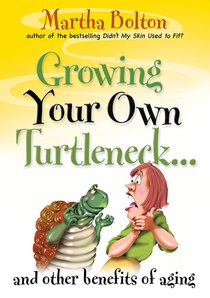 This best-selling author's take on middle age will leave readers laughing aloud and will help you face the day with a smile.Whether Martha Bolton is contemplating whether or not there will be carbs in heaven or why she's growing her own turtle neck, she'll leave readers laughing out loud as they recognize the truth in her hilarious take on aging. Her fans crave each chapter just as they crave one more piece of chocolate. This veteran comedy writer adds occasional touching and poignant stories that remind readers what life is all about.Martha Bolton is a full-time comedy writer and the author of more than fifty books, including Didn't My Skin Used to Fit? She was a staff writer for Bob Hope for fifteen years and has also written for Phyllis Diller, Wayne Newton's USO show, Mark Lowry, and numerous other entertainers. She co-wrote the song "God Help the USA" with Bill Gaither and is well known for her song parodies. She has received four Angel Awards and an Emmy nomination. She and her husband live in Tennessee.
You May Also Be Interested In
About "Growing Your Own Turtleneck and Other Benefits of Aging"
This best-selling author's take on middle age will leave readers laughing aloud and will help you face the day with a smile.Whether Martha Bolton is contemplating whether or not there will be carbs in heaven or why she's growing her own turtle neck, she'll leave readers laughing out loud as they recognize the truth in her hilarious take on aging. Her fans crave each chapter just as they crave one more piece of chocolate. This veteran comedy writer adds occasional touching and poignant stories that remind readers what life is all about.Martha Bolton is a full-time comedy writer and the author of more than fifty books, including Didn't My Skin Used to Fit? She was a staff writer for Bob Hope for fifteen years and has also written for Phyllis Diller, Wayne Newton's USO show, Mark Lowry, and numerous other entertainers. She co-wrote the song "God Help the USA" with Bill Gaither and is well known for her song parodies. She has received four Angel Awards and an Emmy nomination. She and her husband live in Tennessee.
- Koorong

Whether Martha Bolton is contemplating whether or not there will be carbs in heaven or why she's growing her own turtle neck, she'll leave readers laughing out loud as they recognize the truth in her hilarious take on aging. Her fans crave each chapter just as they crave one more piece of chocolate. This veteran comedy writer adds occasional touching and poignant stories that remind readers what life is all about.
- Publisher


Meet the Author
Martha Bolton
Martha Bolton is a full-time comedy writer and the author of more than 50 books, including Didnt My Skin Used to Fit? and most recently Your Best Nap Now: Seven Steps to Nodding Off at Your Full Potential. She was a staff writer for Bob Hope for 15 years and has written for Phyllis Diller, Wayne Newton's USO show, Ann Jillian, Jeff Allen, and many other entertainers. Her writing has appeared in Readers Digest, Chicken Soup for the Soul, and Brio magazine. She has received four Angel Awards and an Emmy nomination. Visit www.marthabolton.com