Habits of the Heart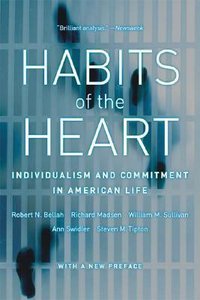 "The contemporary benchmark from which to look back and look forward in the continuing inquiry about American character."--Daniel Bell"One of the most penetrating examinations of American individualism I have seen. . . . I hope it will be read and debated for years."--Christopher Lasch, author of "The Culture of Narcissism

- Publisher
You May Also Be Interested In
About "Habits of the Heart"
"The contemporary benchmark from which to look back and look forward in the continuing inquiry about American character."--Daniel Bell"One of the most penetrating examinations of American individualism I have seen. . . . I hope it will be read and debated for years."--Christopher Lasch, author of "The Culture of Narcissism
- Publisher


Meet the Author
Robert Neelly Bellah
Robert N. Bellah, an American sociologist, received his Ph.D. from Harvard University in 1955 and teaches at the University of California at Berkeley. He is best known for his work on community and religion. Although he has written on religions in nonwestern cultures, he has focused much of his research on the notion of civil religion in the West. To Bellah, American society confronts a moral dilemma whereby communalism competes with individualism for domination. His most important book, Habits of the Heart (1985), considers the American character and the decline of community. Bellah holds that the radical split between knowledge and commitment is untenable and can result only in a stunted personal and intellectual growth. He argues for a social science guided by communal values.