Hadassah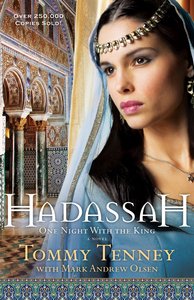 Bestselling author Tommy Tenney expands the extraordinary story of Esther like no novelist has done before. Both a thriller and a Jewish woman's memoir, Hadassah takes readers to ancient Persia (now known as Iraq), into the inner sanctum of the palace and back out into the war zones of battle and political intrigue. This gripping drama of a simple peasant girl chosen over many more qualified candidates to become Esther, Queen of Persia, captures the imagination and fires the emotions of men and women alike.

- Publisher
You May Also Be Interested In
About "Hadassah"
Bestselling author Tommy Tenney expands the extraordinary story of Esther like no novelist has done before. Both a thriller and a Jewish woman's memoir, Hadassah takes readers to ancient Persia (now known as Iraq), into the inner sanctum of the palace and back out into the war zones of battle and political intrigue. This gripping drama of a simple peasant girl chosen over many more qualified candidates to become Esther, Queen of Persia, captures the imagination and fires the emotions of men and women alike.
- Publisher


Meet the Authors
Tommy Tenney
Tommy Tenney is the author of the bestselling series The God Chasers, God's Favorite House, The God Catchers, and God's Eye View. He spent ten years pastoring and has spent over twenty years in itinerant ministry, travelling to more than forty nations. He speaks in over 150 venues each year sharing his heart with many thousands. His two passions are The Presence of God and Unity in the Body of Christ. To help others pursue these twin passions, he founded the God Chasers network, a ministry organised to distribute his writing and speaking through various mediums. Three generations of ministry in his family heritage have given Tommy a unique perspective on ministry. He has a gifting to lead hungry people into the presence of God. He and his wife, Jeannie, reside in Louisiana with their three daughters and two Yorkies. - Publisher.
Mark Andrew Olsen
Mark Andrew Olsen, whose novel The Assignment was a Christy Award finalist, also collaborated on bestsellers Hadassah and The Hadassah Covenant. The son of missionaries to France, Mark is a graduate of Baylor University. He and his wife, Connie, live in Colorado Springs with their three children.