Halos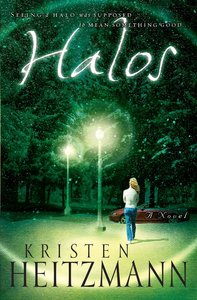 The halo she glimpsed around the sun was the first sign that this might be it - the place she was searching for. Filled with hope and promise, Alessi Moore pulls into Charity amidst her first real snowfall. Enraptured by the pure, serene beauty of the little town, she just knows something good is coming.

But her almost heavenly impression is quickly dashed by an unforeseen loss. Left with nothing but the clothes on her back, Alessi is cast into the care of a reluctant party. Yet in a place where nothing could be wrong, darkness sometimes lurks.
- Publisher.
You May Also Be Interested In
About "Halos"
The halo she glimpsed around the sun was the first sign that this might be it - the place she was searching for. Filled with hope and promise, Alessi Moore pulls into Charity amidst her first real snowfall. Enraptured by the pure, serene beauty of the little town, she just knows something good is coming.

But her almost heavenly impression is quickly dashed by an unforeseen loss. Left with nothing but the clothes on her back, Alessi is cast into the care of a reluctant party. Yet in a place where nothing could be wrong, darkness sometimes lurks.
- Publisher.
- Koorong

It was the halo that caught her heart between beats and made her pause to take notice. When Alessi Moore drives her red Mustang convertible into town, she wonders if this could be the place she was meant to find, a place to settle down. But when her convertible and all she owns is stolen, she is filled with doubt.
- Publisher


Meet the Author
Kristen Heitzmann
Kristen Heitzmann is the bestselling author of over a dozen novels, including Freefall; Halos; A Rush of Wings; Unforgotten, and the Christy Award winner Secrets, and most recently Echoes. She and her husband, Jim, and their family live in Colorado Springs, Colorado, where she serves as worship leader in their church. Visit Kristen's Web site at www.kristenheitzmann.com