Handbook on the Wisdom Books and Psalms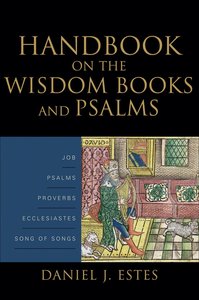 This valuable resource introduces readers to the Old Testament books of wisdom and poetry--Job, Psalms, Proverbs, Ecclesiastes, and Song of Songs--and helps them better understand each book's overall flow. Estes summarizes some of each book's key issues, offers an exposition of the book that interacts with major commentaries and recent studies, and concludes with an extensive bibliography. Now in paperback.

- Publisher
You May Also Be Interested In
About "Handbook on the Wisdom Books and Psalms"
This valuable resource introduces readers to the Old Testament books of wisdom and poetry--Job, Psalms, Proverbs, Ecclesiastes, and Song of Songs--and helps them better understand each book's overall flow. Estes summarizes some of each book's key issues, offers an exposition of the book that interacts with major commentaries and recent studies, and concludes with an extensive bibliography. Now in paperback.
- Publisher


Meet the Author
Daniel Estes
Daniel J. Estes (Ph.D., University of Cambridge) serves as dean of the School of Biblical and Theological Studies and as Distinguished Professor of Bible. is distinguished professor of Bible at Cedarville University and author of Hear, My Son: Teaching and Learning in Proverbs 1-9; Handbook on the Wisdom Books and Psalms and Song of Songs(Apollos Old Testament Commentary series, will be released in the spring of 2009
Koorong -Editorial Review.