Handbook to Scripture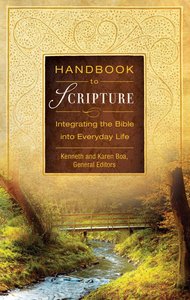 This softcover handbook guides you through the highlights of Scripture with overviews of 365 key chapters. With daily prayers and meditation passages, extra helps empower you internalize the message of each chapter.

- Publisher The Handbook to Scripture guides you through the big picture of the Bible by providing 365 daily readings and Scripture highlights. Each daily reading has four elements: brief introductory paragraphs, a Scripture reading, a prayer of application that relates to the Scripture text, and one or more meditation verses from the reading. These four elements work together to help you internalize the message of each chapter.

- Publisher
You May Also Be Interested In
About "Handbook to Scripture"
This softcover handbook guides you through the highlights of Scripture with overviews of 365 key chapters. With daily prayers and meditation passages, extra helps empower you internalize the message of each chapter.
- Publisher

The Handbook to Scripture guides you through the big picture of the Bible by providing 365 daily readings and Scripture highlights. Each daily reading has four elements: brief introductory paragraphs, a Scripture reading, a prayer of application that relates to the Scripture text, and one or more meditation verses from the reading. These four elements work together to help you internalize the message of each chapter.
- Publisher


Meet the Author
Kenneth D Boa
Kenneth D. Boa (Ph.D., New York University; D.Phil., University of Oxford in England) is engaged in a ministry of relational evangelism and discipleship, teaching, writing, and speaking.
Dr. Boa is the President of Reflections Ministries, an organization that seeks to encourage, teach, and equip people to know Christ, follow Him, become progressively conformed to His image, and reproduce His life in others. He is also President of Trinity House Publishers, a publishing company that is dedicated to the creation of tools that will help people manifest eternal values in a temporal arena by drawing them to intimacy with God and a better understanding of the culture in which they live.
Recent publications by Dr. Boa include Conformed to His Image; 20 Compelling Evidences that God Exists; Face to Face; Augustine to Freud; Faith Has its Reasons; and God, I Dont Understand. He is a contributing editor to The Open Bible and the consulting editor of the Zondervan NASB Study Bible.