Hands Free Mama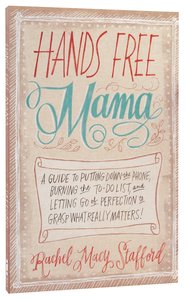 Do you find yourself reaching for your phone instead of talking and playing with your children? Do you spend more time looking into electronic screens than into the eyes of your loved ones? Has your pursuit of the perfectly-orchestrated life replaced time spent making meaningful connection and memorable life experiences? If the answer is yes, you are not alone. Millions of people are experiencing technology as the new addiction. What matters most in life is lost among electronic gadgets, overloaded schedules, and unrealistic social pressures. But this isn't the way it has to be. Popular blogger and writer, Rachel Stafford knows, because she experienced a life-changing journey in her efforts to break away and she shares her steps to freedom in Hands Free Mama. This book provides the awareness, motivation, and tools to get free from the chains of daily distraction and live a more fulfilled and meaningful life. In July 2010, Rachel began practicing simple strategies that enabled her to momentarily let go of daily distractions and initiate meaningful human connection. With each small step, a profoundly transforming reaction occurred. She was able to see how both external and internal distractions were sabotaging her happiness and preventing her from bonding with the people she loves. The addictive grip that her technology and an overly full schedule had on her life began to loosen with each step in her journey. That is when she discovered the power of living 'Hands Free.' Hands Free Mama is the digital society's answer to finding balance in a media-saturated, perfection-obsessed world. It empowers all of us to choose what matters over distraction by offering real and meaningful ways to live a present, authentic, and intentional life.

- Publisher
You May Also Be Interested In
About "Hands Free Mama"
Do you find yourself reaching for your phone instead of talking and playing with your children? Do you spend more time looking into electronic screens than into the eyes of your loved ones? Has your pursuit of the perfectly-orchestrated life replaced time spent making meaningful connection and memorable life experiences? If the answer is yes, you are not alone. Millions of people are experiencing technology as the new addiction. What matters most in life is lost among electronic gadgets, overloaded schedules, and unrealistic social pressures. But this isn't the way it has to be. Popular blogger and writer, Rachel Stafford knows, because she experienced a life-changing journey in her efforts to break away and she shares her steps to freedom in Hands Free Mama. This book provides the awareness, motivation, and tools to get free from the chains of daily distraction and live a more fulfilled and meaningful life. In July 2010, Rachel began practicing simple strategies that enabled her to momentarily let go of daily distractions and initiate meaningful human connection. With each small step, a profoundly transforming reaction occurred. She was able to see how both external and internal distractions were sabotaging her happiness and preventing her from bonding with the people she loves. The addictive grip that her technology and an overly full schedule had on her life began to loosen with each step in her journey. That is when she discovered the power of living 'Hands Free.' Hands Free Mama is the digital society's answer to finding balance in a media-saturated, perfection-obsessed world. It empowers all of us to choose what matters over distraction by offering real and meaningful ways to live a present, authentic, and intentional life.
- Publisher


Meet the Author
Rachel Macy Stafford
Rachel Macy Stafford has been providing readers with simple, non-intimidating, and motivating methods to let go of distraction and connect with their loved ones. Since starting the blog Hands Free Mama in 2010, Rachel s work has been featured in USA Today, TIME.com, MSN.com, The Huffington Post, and Reader s Digest. Her blog currently averages one million visitors a month. Rachel lives in Georgia with her husband and two children who inspire her daily. Hands Free Mama is her first book.
Customer Reviews For "Hands Free Mama"
Write Your Own Review
A message for this age
By Racheal,

Apr 02 2014
This book has such a needed and appropriate message for this digital age where things eternal can be buried under the masses of electronic devices that rob us of precious time and meaningful relationships with precious people. Rachel Stafford documents her own journey to become 'Hands Free', putting down the phone or computer to spend time on what really matters. The book is interspersed with challenges and ideas to cut back on the distractions that plague us and focus on our children and loved ones, on really living. She addresses other topics like marriage and teaching our children to love and serve others also. Loved the chapter on examples and ways to reach out to the poor and needy! So inspiring. My only warning is that the book is a little drawn out, if you're someone who likes people to get to the point, you may find it a little slow. Excellent writing style, very casual and warming.
{{review.title}}
By {{review.author.name}},

{{review.reviewCreatedDate | date:'MMM dd yyyy'}}

{{reviewdescription}}
{{review.text}}
---