Happily Ever After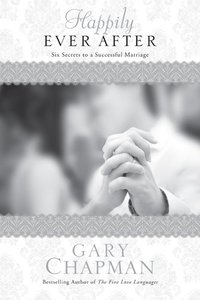 ?My husband and I can't seem to agree on anything!?
?You spent how much!?!?
?My wife's parents are driving me crazy!?
?You never listen to me!?

Let's face it?even the best of marriages hit an occasional bump in the road now and then. The secret to marital bliss lies in how you and your spouse handle those bumps. In Happily Ever After, Gary Chapman, the man ?who wrote the book? on how to communicate with your spouse, shows couples how to successfully navigate the six most common problems that couples face: fighting fair, negotiating change, managing money, getting along with your in-laws, raising kids, and maintaining a healthy sex life. Drawing on more than 30 years of counseling experience, Dr. Chapman provides real-world examples and practical, battle-tested advice that will help you and your spouse better understand and communicate with each other as well as grow as a couple for many years to come.

- Publisher
You May Also Be Interested In
About "Happily Ever After"
?My husband and I can't seem to agree on anything!?
?You spent how much!?!?
?My wife's parents are driving me crazy!?
?You never listen to me!?

Let's face it?even the best of marriages hit an occasional bump in the road now and then. The secret to marital bliss lies in how you and your spouse handle those bumps. In Happily Ever After, Gary Chapman, the man ?who wrote the book? on how to communicate with your spouse, shows couples how to successfully navigate the six most common problems that couples face: fighting fair, negotiating change, managing money, getting along with your in-laws, raising kids, and maintaining a healthy sex life. Drawing on more than 30 years of counseling experience, Dr. Chapman provides real-world examples and practical, battle-tested advice that will help you and your spouse better understand and communicate with each other as well as grow as a couple for many years to come.
- Publisher


Meet the Author
Gary Chapman
New York Times best-selling author, Dr. Gary Chapman seeks to fulfil his call to the ministry as a pastor, speaker, and author. He speaks extensively throughout the U.S. and internationally on marriage, family, and relationships. The government of Singapore invited him to present his marriage seminar there and the Chaplainfds Office of NATO issued a special invitation for Dr. Chapman to speak to the NATO forces in Germany. Other engagements have taken him to England, Africa, Saudi Arabia, Turkey, Mexico and Hong Kong.

Sales exceeding 5 million copies earned him the Platinum Book Award from the Evangelical Publishers Association for The Five Love Languages, which has been translated into over 36 languages. Almost 30 other books including: The whole Love Languages series; The Five Languages of Apology; Desperate Marriages: Moving Toward Hope and Healing in Your Relationship; Now What? Marriage After Children; Profit Sharing: Making Money An Asset in Your Marriage and Anger: Handling a Powerful Emotion in a Healthy Way, Love is a Verb; God Speaks Your Love Language; The Family You've Always Wanted, plus five DVD series are also among his publications. He also hosts a weekly radio program Building Relationships with Dr. Gary Chapman, which airs on more than 170 stations.

On the home front, Dr. Chapman is Senior Associate Pastor of Calvary Baptist Church in Winston-Salem, North Carolina with over 35 years of pastoring and marriage counselling experience. He and his wife, Karolyn, have two adult children and two grandchildren.

Dr Gary Chapman holds the following educational qualifications:

Southwestern Baptist Theological Seminary
Ph.D., Adult Education
M.R.E., Education Administration

Wake Forest University
M.A., Anthropology

Wheaton College
B.A., Anthropology; Minor: Bible

Moody Bible Institute
Diploma, Pastor's Course

Duke University
Graduate work: History of Education; Educational Psychology

University of North Carolina
Graduate work: Philosophy of Education; Comparative Education
- Publisher.