Hatteras Girl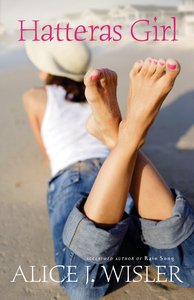 A contemporary romance combining the wit and vibrancy of Southern fiction with a sweet romance sure to delight readers; set in the Outer Banks of NCThere are two things twenty-nine-year-old Jackie Donovan asks God for: an honest, wonderful man to marry, and to own a bed-and-breakfast in the Outer Banks region. In the meantime, Jackie works for Lighthouse Views magazine, writing articles about other local business owners, and intrepidly goes on the blind dates set up by her well-meaning but oh-so-clueless relatives.

There's one specific property Jackie dreams of purchasing: the Bailey Place, a fabulous old home where Jackie spent many happy childhood afternoons, a place that has now fallen into disrepair because of its outrageous price tag. When Jackie meets handsome Davis Erickson, who holds the key to the Bailey Place, Jackie is sure God has answered both her prayers. But as Jackie learns some disturbing details about Davis's past, she begins to question her own motivation. Will she risk her long-held dreams to find out the truth?Alice J. Wisler is a public speaker, advocate, fundraiser, and the author of two contemporary novels, How Sweet It Is and Rain Song, a Christy Award finalist. She has been a guest on several radio and TV programs to promote her self-published cookbooks, Slices of Sunlight and Down the Cereal Aisle. She has a Bachelor of Science from Eastern Mennonite University and has traveled the world in jobs that minister to people. Alice and her family live in Durham, North Carolina.
You May Also Be Interested In
About "Hatteras Girl"
A contemporary romance combining the wit and vibrancy of Southern fiction with a sweet romance sure to delight readers; set in the Outer Banks of NCThere are two things twenty-nine-year-old Jackie Donovan asks God for: an honest, wonderful man to marry, and to own a bed-and-breakfast in the Outer Banks region. In the meantime, Jackie works for Lighthouse Views magazine, writing articles about other local business owners, and intrepidly goes on the blind dates set up by her well-meaning but oh-so-clueless relatives.

There's one specific property Jackie dreams of purchasing: the Bailey Place, a fabulous old home where Jackie spent many happy childhood afternoons, a place that has now fallen into disrepair because of its outrageous price tag. When Jackie meets handsome Davis Erickson, who holds the key to the Bailey Place, Jackie is sure God has answered both her prayers. But as Jackie learns some disturbing details about Davis's past, she begins to question her own motivation. Will she risk her long-held dreams to find out the truth?Alice J. Wisler is a public speaker, advocate, fundraiser, and the author of two contemporary novels, How Sweet It Is and Rain Song, a Christy Award finalist. She has been a guest on several radio and TV programs to promote her self-published cookbooks, Slices of Sunlight and Down the Cereal Aisle. She has a Bachelor of Science from Eastern Mennonite University and has traveled the world in jobs that minister to people. Alice and her family live in Durham, North Carolina.
- Koorong

There are two things twenty-nine-year-old Jackie Donovan asks God for: an honest, wonderful man to marry, and to own a bed-and-breakfast in the Outer Banks region. In the meantime, Jackie works for Lighthouse Views magazine, writing articles about other local business owners, and intrepidly goes on the blind dates set up by her well-meaning but oh-so-clueless relatives.

There's one specific property Jackie dreams of purchasing: the Bailey Place, a fabulous old home where Jackie spent many happy childhood afternoons, a place that has now fallen into disrepair because of its outrageous price tag. When Jackie meets handsome Davis Erickson, who holds the key to the Bailey Place, Jackie is sure God has answered both her prayers. But as Jackie learns some disturbing details about Davis's past, she begins to question her own motivation. Will she risk her long-held dreams to find out the truth?
- Publisher