HCSB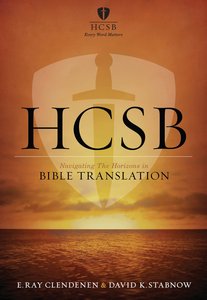 You May Also Be Interested In
About "HCSB"
In Genesis 3:1 the serpent asked the woman, "Did God really say, 'You can't eat from any tree in the garden'?" What has God really said? Before we can obey Him, we must know what He has said. The Psalmist prayed twice in his affliction, "Give me life through Your word" (Ps 119:25, 107). When Jesus was afflicted by the Devil in the wilderness (Mt 4:1-11), He defended Himself with the sword of the Spirit (Eph 6:17) - God's Word. But Christians must know what God has said if we are to find strength and healing from affliction and defense against the Devil. Bible translation is not a casual enterprise because it involves bringing the life-saving Word of God to people in their own language. And selecting a Bible translation is not on the order of picking out a sweater. It's more like picking a doctor - someone you can trust. This book is about how Bible translation is done. And it commends a particular translation - the Holman Christian Standard Bible (HCSB) - as a trustworthy guide to what God has really said.
- Publisher
Customer Reviews For "HCSB"
Write Your Own Review
A Helpful Introductory Guide to Understanding Bible Translation and Textual Criticism
By Dr. Bernard Low,

Jan 07 2015
HCSB stands for Holman Christian Standard Bible. This is one of the latest English translations of the Bible to appear in the 21st century. Amidst the proliferation of so many Bible translations in the English language, this book sets out to explain why there is a need for a new and fresh translation of the Scriptures. The philosophy of translation underlying the HCSB is not "dynamic equivalence" (which focuses more on how to transfer the meaning and message of the original texts into the receptor language) nor "formal equivalence" (which emphasizes fidelity to the lexical details and grammatical structure of the original language) but what the authors call "optimal equivalence." "Optimal equivalence," using the best language tools available, seeks to transfer the meaning and intent of the original texts using semantic and linguistic equivalents in the receptor language to achieve accuracy and clarity. Besides helpfully introducing the philosophy of optimal equivalence to the reader, this book also sheds light on what translators do and the challenges they face in translation. Additionally, it discusses issues like inclusive language and how to translate various Hebrew and Greek words, phrases or concepts. It ends with a helpful chapter on how language works. Any Christian who wishes to understand more about the issues involved in Bible translation and also textual criticism will find this book to be a helpful guide.
{{review.title}}
By {{review.author.name}},

{{review.reviewCreatedDate | date:'MMM dd yyyy'}}

{{reviewdescription}}
{{review.text}}
---