Healing the Nations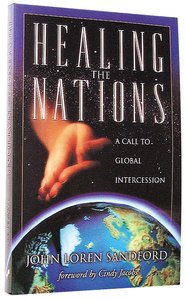 Can ordinary, individual believers bring real hope to a hurting world? John Loren Sandford shows that God can use you, as a burden-bearing intercessor, to heal such wounds as abuse, racial hatred and 'ethnic cleansing'. "Boldly asks and courageously answers some of the significant questions of our time." - Tommy Tenney. 256 pages, from Baker

- Publisher Teaches the Body of Christ how to break Satan\u2019s hold on lands and peoples.

- Publisher "We have entered a remarkable season in which Christian reconcilers like myself and Desmond Tutu give talks at Harvard University on healing nations. How did this happen? It began years ago when authors like John Sandford pioneered biblical methods of ministering restoration to wounded people. The wisdom of God works at all levels and now this spiritual father has given us a treasure of explicit teaching that speaks to the corporate personality of nations and peoples."--John Dawson, founder, International Reconciliation Coalition"This book is a call for praying people to catch the Father's heart, to arise and stand between destiny and destruction. This is not a position without conflict, and this is not a book without controversy, but only immaturity disdains questions. In this book John Sandford boldly asks and courageously answers some of the significant questions of our time. You may not agree with John's answer, but you will agree, 'That's a good question, I'll pray about it.' And that's exactly what John wants you to do."--Tommy Tenney, founder, GodChasers.network; speaker; author, The God Chasers"John Sandford has done it again. Healing the Nations is a provacative and convicting call for us as the Body of Christ to fight with wisdom and understanding for the Kingdom of God to come on earth as it is in heaven. If you really take the time to think through the premises John espouses in this book, it will transform not only your prayer life but your lifestyle."--John Paul Jackson, Streams Ministries International"This timely book will enable you to keep the scriptural mandate to 'despise not prophesyings. Prove all things; hold fast that which is good' (1 Thessalonians 5:20-21). This is a much-needed work."--John Arnott, senior pastor, Toronto Airport Christian Fellowship

- Publisher
You May Also Be Interested In
About "Healing the Nations"
Can ordinary, individual believers bring real hope to a hurting world? John Loren Sandford shows that God can use you, as a burden-bearing intercessor, to heal such wounds as abuse, racial hatred and 'ethnic cleansing'. "Boldly asks and courageously answers some of the significant questions of our time." - Tommy Tenney. 256 pages, from Baker
- Publisher

Teaches the Body of Christ how to break Satan\u2019s hold on lands and peoples.
- Publisher

"We have entered a remarkable season in which Christian reconcilers like myself and Desmond Tutu give talks at Harvard University on healing nations. How did this happen? It began years ago when authors like John Sandford pioneered biblical methods of ministering restoration to wounded people. The wisdom of God works at all levels and now this spiritual father has given us a treasure of explicit teaching that speaks to the corporate personality of nations and peoples."--John Dawson, founder, International Reconciliation Coalition"This book is a call for praying people to catch the Father's heart, to arise and stand between destiny and destruction. This is not a position without conflict, and this is not a book without controversy, but only immaturity disdains questions. In this book John Sandford boldly asks and courageously answers some of the significant questions of our time. You may not agree with John's answer, but you will agree, 'That's a good question, I'll pray about it.' And that's exactly what John wants you to do."--Tommy Tenney, founder, GodChasers.network; speaker; author, The God Chasers"John Sandford has done it again. Healing the Nations is a provacative and convicting call for us as the Body of Christ to fight with wisdom and understanding for the Kingdom of God to come on earth as it is in heaven. If you really take the time to think through the premises John espouses in this book, it will transform not only your prayer life but your lifestyle."--John Paul Jackson, Streams Ministries International"This timely book will enable you to keep the scriptural mandate to 'despise not prophesyings. Prove all things; hold fast that which is good' (1 Thessalonians 5:20-21). This is a much-needed work."--John Arnott, senior pastor, Toronto Airport Christian Fellowship
- Publisher


Meet the Author
John Loren Sandford
JOHN AND PAULA SANDFORD travel worldwide conducting seminars interdenominationally on marriage and family, inner healing and transformation, prayer, the gifts of the Holy Spirit, burden-bearing, intercession, and more. They make frequent television appearances and are active in the renewal and reconciliation movements. John and Paula live in Hayden Lake, Idaho.
Table Of Contents
Foreword
acknowledgments
introduction
1 The Call To The Nations
2 What Does "healing" Mean?
3 Toward Humility And Repentance
4 Who Are The Nations?
5 Defeating Satan's Master Plan
6 Whose Job Is It To Heal The Nations?
7 Transforming Prayer For The Nations
8 The Councils Of God
9 Defeating The Devil's Devices
10 Healing Generational Sin In Nations
11 Healing And Deliverance Through Spiritual Warfare For The Nations by Cindy Jacobs
12 Setting Earth Free From Its Two Greatest Strongholds
13 Seven Principles Of Inner Healing To The Nations
index