Healing Through Deliverance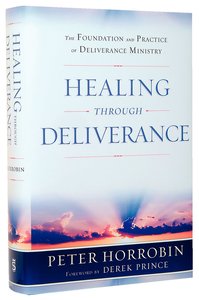 Was Jesus' charge to His disciples to cast out demons a vital part of the Great Commission? If so, why is so little taught in the Church about healing and deliverance?
Peter Horrobin's ground-breaking two volume series, a best seller for the last decade, has now been completely revised and rewritten and is available in this larger format hardback with a helpful index and appendices. In it, Peter lays the biblical foundation for the ministry of healing and deliverance. He analyses in detail the ministry of Jesus and the early Church, looks at the supernatural realm of angels and demons, and explores how powers of darkness can affect people's lives. He provides guidelines and tools for building a healing and deliverance ministry through both the local church and in counselling ministry. He identifies demonic entry points, teaches how people can become affected by demonic powers, and explains step by step how they can be set free.


What Others Are Saying About This Book:

"These are among the finest books in this field for biblical insight and practical guidance. I highly recommend them for my own ministry team members."
- DR. CHARLES H. KRAFT, Fuller Theological Seminary
You May Also Be Interested In
About "Healing Through Deliverance"
Was Jesus' charge to His disciples to cast out demons a vital part of the Great Commission? If so, why is so little taught in the Church about healing and deliverance?
Peter Horrobin's ground-breaking two volume series, a best seller for the last decade, has now been completely revised and rewritten and is available in this larger format hardback with a helpful index and appendices. In it, Peter lays the biblical foundation for the ministry of healing and deliverance. He analyses in detail the ministry of Jesus and the early Church, looks at the supernatural realm of angels and demons, and explores how powers of darkness can affect people's lives. He provides guidelines and tools for building a healing and deliverance ministry through both the local church and in counselling ministry. He identifies demonic entry points, teaches how people can become affected by demonic powers, and explains step by step how they can be set free.


What Others Are Saying About This Book:

"These are among the finest books in this field for biblical insight and practical guidance. I highly recommend them for my own ministry team members."
- DR. CHARLES H. KRAFT, Fuller Theological Seminary
- Koorong

Originally published as two separate volumes, this best selling book on the subject of deliverance ministry has now been combined, updated and revised and will be available in hardback. Peter Horrobin has more than twenty years experience teaching about healing and ministering to those in need. In this comprehensive, practical and groundbreaking volume, he draws on this experience to set out a thorough scriptural foundation for the healing and deliverance ministry - an integral part of fulfilling the Great Commission and a vital key to discipleship.He lays out the biblical basis for healing through deliverance; provides safe guidelines and practical tools for building a healing and deliverance ministry; helps people identify possible demonic entry points; and teaches how we can become affected by demonic power and how we can be delivered and healed. In the final section of the book Peter turns his focus to the cleansing of land and buildings. This authoritative handbook will equip you to understand the ministry and respond to the call of God to set the captives free.
- Publisher


Meet the Author
Peter Horrobin
Peter J. Horrobin is the founder and international director of Ellel Ministries (www.ellelministries.org), which has sixteen teaching and ministry centers throughout the world. A graduate of Oxford University, Peter and his wife, Fiona, live near Ellel Grange in Lancashire, England.
Table Of Contents
Part 1 Foundations For The Deliverance Ministry: Chapter 1 Healing In The Church Today; Chapter 2 Introduction To Deliverance Ministry; Chapter 3 Healing, Deliverance And God's Covenants; Chapter 4 Mankind-god's Special Creation; Chapter 5 The Realm Of Angels; Chapter 6 Satan And His Kingdom; Chapter 7 The Fall And God's Rescue Plan Chapter 8 Demonization And Worship; Chapter 9 The Character And Work Of Evil Spirits; Chapter 10 The Direct Encounters Of Jesus With Satan; Chapter 11 Encounters With The Demonic In The Gospels; Chapter 12 Encounters With The Demonic In The Acts Of The Apostles; Chapter 13 The Teachings Of Jesus On Aspects Of Deliverance; Chapter 14 Some Important Teachings On The Demonic In The Epistles; Chapter 15 Demonization Of Christians;part 2 The Practice Of The Deliverance Ministry: Chapter 16 Deliverance And Healing; Chapter 17 Preparing The Ground-foundational Teaching For Healing And Deliverance; Chapter 18 Some Observable Symptoms Of Possible Demonization; Chapter 19 How Demons Enter; Chapter 20 Preparing A Person For Healing Through Deliverance; Chapter 21 Foundational Prayers; Chapter 22 The Ministry Of Deliverance; Chapter 23 Why Some People Are Not Delivered; Chapter 24 Advice To The Delivered;part 3 Land And Buildings: Chapter 25 Cleansing Of Land, Buildings And Organizations; Part 4 Postscript, Appendixes And Bibliography: Chapter 26 Postscript
{{review.title}}
By {{review.author.name}},

{{review.reviewCreatedDate | date:'MMM dd yyyy'}}

{{reviewdescription}}
{{review.text}}
---