Hear My Heart: What I Would Say to You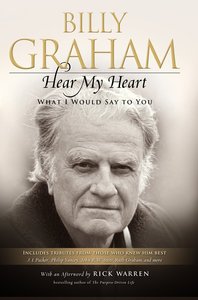 Millions around the world have heard Billy Graham's evangelistic messages. Now hear his heart.

Billy Graham has gone home. He preached to more people in live audiences that anyone else in history. But his lifelong message, his passion for the gospel, and his compassion for people still echo in Hear My Heart.

This intimate work - a compilation of articles that spans Billy's ministry from 1955 to today - invites you to hear in his own words the things that made his heart beat faster. The biblical convictions he abided by. The reasons and regrets behind some of his decisions. And the wisdom he gained in his ninety-plus years on this earth.

Hear My Heart also presents stirring tributes about Billy and his legacy from those who knew him best - including members of his family, his friends, and his co-labourers in ministry - and features a special afterword by Rick Warren about Graham's lasting influence in his life.

These are Billy's final words to us all, as if we were sitting with him on the front porch of his mountain cabin having a cup of coffee. This is his legacy - the personal exhortations he left our generation and the next as the most-needed reminders for our time.

- Publisher
You May Also Be Interested In
About "Hear My Heart: What I Would Say to You"
Millions around the world have heard Billy Graham's evangelistic messages. Now hear his heart.

Billy Graham has gone home. He preached to more people in live audiences that anyone else in history. But his lifelong message, his passion for the gospel, and his compassion for people still echo in Hear My Heart.

This intimate work - a compilation of articles that spans Billy's ministry from 1955 to today - invites you to hear in his own words the things that made his heart beat faster. The biblical convictions he abided by. The reasons and regrets behind some of his decisions. And the wisdom he gained in his ninety-plus years on this earth.

Hear My Heart also presents stirring tributes about Billy and his legacy from those who knew him best - including members of his family, his friends, and his co-labourers in ministry - and features a special afterword by Rick Warren about Graham's lasting influence in his life.

These are Billy's final words to us all, as if we were sitting with him on the front porch of his mountain cabin having a cup of coffee. This is his legacy - the personal exhortations he left our generation and the next as the most-needed reminders for our time.
- Publisher


Meet the Author
Billy Graham
Hailed as the world's preacher, the late Billy Graham had a career spanning over half a century. He preached the Gospel to more people in a live-audience format than anyone else in history - more than 210 million people, in more than 185 countries and territories through various meetings, including Mission World and Global Mission.

Born William Franklin Graham, Jr. in Charlotte, North Carolina, 17 November 1918, he entered the ministry in 1943 and soon began conducting evangelistic crusades. In 1950, he founded The Billy Graham Evangelistic Association, which has sponsored crusades and produced radio and television programs as well as films.

Dr. Graham wrote many books, a number of which became bestsellers. His autobiography, Just As I Am, published in 1997, achieved a "triple crown", appearing simultaneously on the three top best-seller lists in one week.

Dr. Graham passed away 21 February 2018.