Hearing God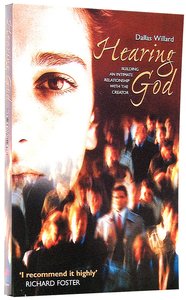 An intimate relationship with God is the beginning of true wisdom and insight. This book is about learning to become a person who can remain in touch with the Spirit of God when everything except God clamours for our attention. "Few books have challenged me like this one." - Bill Hybels. "I recommend it highly." - Richard Foster. 226 pages, from Fount
You May Also Be Interested In
About "Hearing God"
An intimate relationship with God is the beginning of true wisdom and insight. This book is about learning to become a person who can remain in touch with the Spirit of God when everything except God clamours for our attention. "Few books have challenged me like this one." - Bill Hybels. "I recommend it highly." - Richard Foster. 226 pages, from Fount
- Koorong

240 Pages
- Publisher

From a close associate of Richard Foster, here is a profound understanding of how to hear God in today's busy world. The Christian claim that it is possible to have a personal relationship with the creator of the universe is increasingly under threat in the modern world. With the sound of society and the speed of living increasing year by year, is it really possible to hear from God and be in communication with him? Dallas Willard says an emphatic "yes." In this ground breaking book, he reveals how "hearing God" is actually possible. He explains how to listen for God's voice in unexpected places, how to experience the "still small voice," and how to become a mature person of discernment. Richard Foster says this is "the best book on divine guidance I have read" Bill Hybels says "few books have challenged me like this one" This book will profoundly affect every reader
- Publisher


Meet the Author
Dallas Willard
Dallas Willard (Ph.D., University of Wisconsin) is a Professor in the School of Philosophy at the University of Southern California in Los Angeles. He has taught at USC since 1965, where he was Director of the School of Philosophy from 1982-1985. His philosophical publications are mainly in the areas of epistemology, the philosophy of mind and of logic, and on the philosophy of Edmund Husserl, including extensive translations of Husserl's early writings from German into English.
He also lectures and writes award winning books on Christian Spirituality. His book Renovation of the Heart received Christianity Today's 2003 Book Award in the category of Spirituality. The Divine Conspiracy was selected Christianity Today's "Book of the Year" for 1999.
His other publications include The Spirit of the Disciplines; Hearing God; The Great Omission; Renovation of the Heart in Daily Practice and most recently Knowing Christ Today: Why We Can Trust Spiritual Knowledge and Personal Religion, Public Reality?.
Koorong -Editorial Review.