Hearing God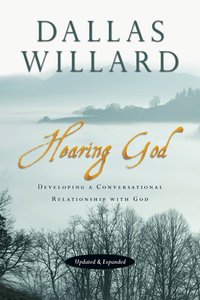 "God spoke to me.""The Spirit spoke to my heart.""God revealed the idea to me."Being close to God means communicating with him-telling him what is on our hearts in prayer and hearing and understanding what he is saying to us. It is this second half of our conversation with God that is so important but that can also be so difficult. How do we hear his voice? How can we be sure that what we think we hear is not our own subconscious? What role does the Bible play? What if what God says to us is not clear?The key, says best-selling author Dallas Willard, is to focus not so much on individual actions and decisions as on building our personal relationship with our Creator. In this updated and expanded edition of Willard's beloved book, originally published as In Search of Guidance, you'll gain rich spiritual insight into how we can hear God's voice clearly and develop an intimate partnership with him in the work of his kingdom. Including new material from Dallas Willard's teaching at the Renovaré Institute and reformatted to be even easier to read, this classic continues to endure as one of today's best resources for learning to listen closely to God.

- Publisher
You May Also Be Interested In
About "Hearing God"
"God spoke to me.""The Spirit spoke to my heart.""God revealed the idea to me."Being close to God means communicating with him-telling him what is on our hearts in prayer and hearing and understanding what he is saying to us. It is this second half of our conversation with God that is so important but that can also be so difficult. How do we hear his voice? How can we be sure that what we think we hear is not our own subconscious? What role does the Bible play? What if what God says to us is not clear?The key, says best-selling author Dallas Willard, is to focus not so much on individual actions and decisions as on building our personal relationship with our Creator. In this updated and expanded edition of Willard's beloved book, originally published as In Search of Guidance, you'll gain rich spiritual insight into how we can hear God's voice clearly and develop an intimate partnership with him in the work of his kingdom. Including new material from Dallas Willard's teaching at the Renovaré Institute and reformatted to be even easier to read, this classic continues to endure as one of today's best resources for learning to listen closely to God.
- Publisher


Meet the Author
Dallas Willard
Dallas Willard (Ph.D., University of Wisconsin) is a Professor in the School of Philosophy at the University of Southern California in Los Angeles. He has taught at USC since 1965, where he was Director of the School of Philosophy from 1982-1985. His philosophical publications are mainly in the areas of epistemology, the philosophy of mind and of logic, and on the philosophy of Edmund Husserl, including extensive translations of Husserl's early writings from German into English.
He also lectures and writes award winning books on Christian Spirituality. His book Renovation of the Heart received Christianity Today's 2003 Book Award in the category of Spirituality. The Divine Conspiracy was selected Christianity Today's "Book of the Year" for 1999.
His other publications include The Spirit of the Disciplines; Hearing God; The Great Omission; Renovation of the Heart in Daily Practice and most recently Knowing Christ Today: Why We Can Trust Spiritual Knowledge and Personal Religion, Public Reality?.
Koorong -Editorial Review.