Heart of a Lioness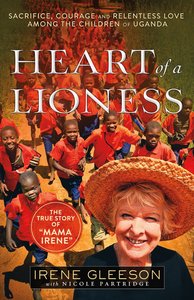 At 35, Irene Gleeson's life was all but over. Her first marriage had fallen apart, her family home had been sold and her children were on a path of self-destruction. Disillusioned and anxious, she sought answers in all manner of places, but when this all came to nothing, she spiralled further into the abyss. Broke and depressed, suicidal and trawling the night clubs looking for love, Irene made an unexpected discovery of God's love on the 28th of November, 1982. Standing at the back of a small beachside church, the presence of God embraced her, and in that moment, she was finally free. With a renewed sense of purpose, peace and several answered prayers, Irene asked this of her saviour: "Jesus, you've done this for me, what can I do for you?" What followed was a commitment by Irene and her then second husband to sponsoring children from around the world and embarking on short-term missions' trips. But it was a visit to Ethiopia in 1988 to meet their sponsored children that would be the turning point. In February 1992, Irene and her husband sold up everything, waved goodbye to family and friends and shipped their modest aluminium caravan 12,000 kms from the warm, white sands of Australia to the red, dust of Uganda. In a small isolated community on the Sudan border, the couple began their work of rescuing and rehabilitating child soldiers and orphans. Irene taught the children to sing and then to read and write - eventually adding feeding, education and medical care to her repertoire. While the work continued to grow and flourish, her relationship didn't, and before long, she found herself alone - yet again. Irene forged ahead despite the hardships - extreme isolation, swelteringly hot days, repeated bouts of malaria and several attacks by rebels. Hand in hand with Jesus, she carved out a global organisation that has left an indelible imprint on the hearts and lives of 20,000 war affected Ugandans.
Heart of a Lioness will take readers on Irene's journey of obedience, sacrifice and unwavering faith. A moving narrative filled with drama, humour and deeply personal insights, Irene recounts story after story of God's miracles amidst the frustrations of running a ministry as an older single white woman. The book will challenge and inspire readers to find their mission in life and will reinforce the notion that no matter who you are, or where you've been - it's never too late to find your purpose.

- Publisher
You May Also Be Interested In
About "Heart of a Lioness"
At 35, Irene Gleeson's life was all but over. Her first marriage had fallen apart, her family home had been sold and her children were on a path of self-destruction. Disillusioned and anxious, she sought answers in all manner of places, but when this all came to nothing, she spiralled further into the abyss. Broke and depressed, suicidal and trawling the night clubs looking for love, Irene made an unexpected discovery of God's love on the 28th of November, 1982. Standing at the back of a small beachside church, the presence of God embraced her, and in that moment, she was finally free. With a renewed sense of purpose, peace and several answered prayers, Irene asked this of her saviour: "Jesus, you've done this for me, what can I do for you?" What followed was a commitment by Irene and her then second husband to sponsoring children from around the world and embarking on short-term missions' trips. But it was a visit to Ethiopia in 1988 to meet their sponsored children that would be the turning point. In February 1992, Irene and her husband sold up everything, waved goodbye to family and friends and shipped their modest aluminium caravan 12,000 kms from the warm, white sands of Australia to the red, dust of Uganda. In a small isolated community on the Sudan border, the couple began their work of rescuing and rehabilitating child soldiers and orphans. Irene taught the children to sing and then to read and write - eventually adding feeding, education and medical care to her repertoire. While the work continued to grow and flourish, her relationship didn't, and before long, she found herself alone - yet again. Irene forged ahead despite the hardships - extreme isolation, swelteringly hot days, repeated bouts of malaria and several attacks by rebels. Hand in hand with Jesus, she carved out a global organisation that has left an indelible imprint on the hearts and lives of 20,000 war affected Ugandans.
Heart of a Lioness will take readers on Irene's journey of obedience, sacrifice and unwavering faith. A moving narrative filled with drama, humour and deeply personal insights, Irene recounts story after story of God's miracles amidst the frustrations of running a ministry as an older single white woman. The book will challenge and inspire readers to find their mission in life and will reinforce the notion that no matter who you are, or where you've been - it's never too late to find your purpose.
- Publisher


Meet the Authors
Irene Gleeson
Irene Hephzibah Gleeson is a remarkable woman, and founder of Childcare Kitgum Servants in Kitgum, Uganda, East Africa. In 1991, she taught 20 children to write their names in the dust, under the mango trees. In 2005, at the time of the filming of Cinderella Children she oversaw 4000 African students in the core of 200 African staff, all studying, eating, healthy and progressing.-Editorial Review.
Nicole Partridge
Nicole Partridge is a highly regarded freelance journalist and ghost-writer whose feature stories have been published in newspapers and magazines in Australia, USA, UK and New Zealand.
Media
Customer Reviews For "Heart of a Lioness"
Write Your Own Review
Excellent read
By Melissa,

Jan 05 2018
Inspiring read with so many stories of God's faithfulness. 
---
Enthralled and captivated by this book.
By Sandy,

Oct 05 2015
Irene's amazing life of caring for destitute children in a war zone. Fearlessly  standing on God's Word when rebels attacked armed with guns in their mission to destroy her and abduct the orphaned children to use as child soldiers. I couldn't put the book down - such an example and hero, so worth reading. Sacrificial life of love
---
Inspirational Biography
By Rebecca,

Jul 25 2015
Irene Gleeson's story of finding Jesus, then making the bold move to Uganda where she spread this love to the orphans in Africa, changing their lives.  Inspiring and motivational!
---
Good
By Mae,

May 31 2015
Nice book with a great message. I recommend reading it. 
---
Do yourself a favour!!
By Stephanie,

Feb 09 2015
Please put HEART OF A LIONESS on your "MUST READ" list for 2015.  A well written, page-turning, hard to put down autobiography, it covers the amazing life story of an incredible lady who sacrificed so much to follow the calling of God on her life.  The book is compelling and challenging, and stirs a vast array of unexpected emotions in the reader.  I loved this book - 5 stars!
{{review.title}}
By {{review.author.name}},

{{review.reviewCreatedDate | date:'MMM dd yyyy'}}

{{reviewdescription}}
{{review.text}}
---