Heart on the Line (#02 in Ladies Of Harper's Station Series)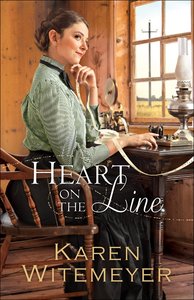 Witemeyer Returns with Her Trademark Blend of Adventure, Romance, and Humor

Grace Mallory is tired of running, of hiding. But when an old friend sends an after-hours telegraph transmission warning Grace that the man who has hunted her for nearly a year has discovered her location, she fears she has no choice. She can't let the villain she believes responsible for her father's death release his wrath in Harper's Station, the town that has sheltered her and blessed her with the dearest friends she's ever known.

Amos Bledsoe prefers bicycles to horses and private conversations over the telegraph wire to social gatherings with young ladies who see him as nothing more than an oddity. His telegraph companion, the mysterious Miss G, listens eagerly to his ramblings every night and delights him with tales all her own. For months, their friendship--dare he believe, courtship?--has fed his hope that he has finally found the woman God intended for him. Yet when he takes the next step to meet her in person, he discovers her life is in peril, and Amos must decide if he can shed the cocoon of his quiet nature to become the hero Grace requires.

- Publisher
You May Also Be Interested In
About "Heart on the Line (#02 in Ladies Of Harper's Station Series)"
Witemeyer Returns with Her Trademark Blend of Adventure, Romance, and Humor

Grace Mallory is tired of running, of hiding. But when an old friend sends an after-hours telegraph transmission warning Grace that the man who has hunted her for nearly a year has discovered her location, she fears she has no choice. She can't let the villain she believes responsible for her father's death release his wrath in Harper's Station, the town that has sheltered her and blessed her with the dearest friends she's ever known.

Amos Bledsoe prefers bicycles to horses and private conversations over the telegraph wire to social gatherings with young ladies who see him as nothing more than an oddity. His telegraph companion, the mysterious Miss G, listens eagerly to his ramblings every night and delights him with tales all her own. For months, their friendship--dare he believe, courtship?--has fed his hope that he has finally found the woman God intended for him. Yet when he takes the next step to meet her in person, he discovers her life is in peril, and Amos must decide if he can shed the cocoon of his quiet nature to become the hero Grace requires.
- Publisher


Meet the Author
Karen Witemeyer
Karen Witemeyer holds a master's degree in psychology from Abilene Christian University and is a member of ACFW, RWA, and the Texas Coalition of Authors. She has published fiction in Focus on the Family's children's magazine, and has written several articles for online publications and anthologies. Tailor-Made Bride is her first novel. Karen lives in Abilene, Texas, with her husband and three children.
Customer Reviews For "Heart on the Line (#02 in Ladies Of Harper's Station Series)"
Write Your Own Review
Loved it!
By Hannah,

Aug 24 2017
This book was such an enjoyable read! I love that the hero is a skinny, glasses-wearing nerd with a penchant to talking in his head to the muscled cowboys around him. It was funny both funny and adorable but also had so much in there about love, worth, friendships, loyalty and how intimately God cares about each of us. Loved learning all about the 'wire' and how messages used to be sent too. Such fun!

---
Wonderful
By Jacqueline,

Aug 01 2017
This continuing story of the women of Harper's Station does not disappoint. Grace's story is sweet, ingenious and a little tense at time. I loved relationship Grace develops with Amos over the telegraph lines and how it continues to develop throughout the story. I enjoyed the twists and turns in the story but most of all I love the sense of community, love and acceptance that comes across as you journey with the people living in Harper's Station. A really beautiful story to read.
---
Love it!
By Iola,

Jun 24 2017
Heart on the Line is the second novel (and third book) in Karen Witemeyer's Ladies of Harper's Station series. It is a standalone story, but you'll probably understand the women's colony and their attitude to men better if you at least read No Other Will Do first (and perhaps Worth the Wait as well).

Like No Other Will Do, Heart on the Line is a departure from Karen Witemeyer's witty historical romances, in that it's more of a witty romantic suspense.

It's an excellent novel. Grace and Amos are both great characters, and their shared occupation made for some great moments. The writing was excellent, a perfect mix of humour, romance and suspense, with just the right injection of the Christian faith. There was also a subplot with the man-shy Helen, and I loved that as much as the main GraceAmos romance plot.

And there was plenty of suspense. The identity of the evildoer was kind of obvious to the reader, but was equally obvious to Grace (yay for intelligent heroines!). That added to the fun-how would she keep him from knowing she was onto him? And who would find the missing documents first!

Recommended for all romantic suspense fans.

Thanks to Bethany House and NetGalley for providing a free ebook for review.
{{review.title}}
By {{review.author.name}},

{{review.reviewCreatedDate | date:'MMM dd yyyy'}}

{{reviewdescription}}
{{review.text}}
---
Other Titles In The "Ladies Of Harper's Station Series" Series