Hearts Awakening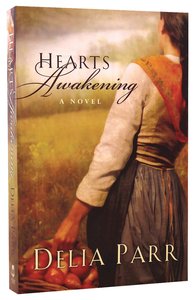 Life has left few choices for Elvira Kilmer. Her hopes for marriage and a family of her own have long since passed her by, and her arrival on Dillon's Island, nestled in the Susquehanna River, is not of her choosing, either. She needs work. And Jackson Smith needs a housekeeper.

Yet Ellie never imagined the widower would be so young... so handsome.

Jackson, on the other hand, has never met anyone quite so... plain. But he quickly comes to realize that Ellie's presence may solve his own problems--both the rearing of his young boys and the scandal that surrounds his first marriage.

When Jackson offers her something quite out of the ordinary, will Ellie look beyond mere necessity and risk opening her heart?



- Publisher With no means to support herself, Ellie Kilmer agrees to work as a housekeeper for the young widower who lives on Dillon Island, hopeful she can obtain a proper reference. But Jackson Smith quickly realizes that Ellie's presence may solve his own problems--both the rearing of his young boys and the scandal that surrounds his first marriage. When a marriage of convenience is offered, Ellie is initially humiliated. Though she is past the age most women marry, she has more pride than to agree to his outlandish suggestion. Yet what options does she have? To marry would mean a home and stability. So despite the rumors circling Jackson and his first wife, Ellie accepts this unlikely proposal...

- Publisher
You May Also Be Interested In
About "Hearts Awakening"
Life has left few choices for Elvira Kilmer. Her hopes for marriage and a family of her own have long since passed her by, and her arrival on Dillon's Island, nestled in the Susquehanna River, is not of her choosing, either. She needs work. And Jackson Smith needs a housekeeper.

Yet Ellie never imagined the widower would be so young... so handsome.

Jackson, on the other hand, has never met anyone quite so... plain. But he quickly comes to realize that Ellie's presence may solve his own problems--both the rearing of his young boys and the scandal that surrounds his first marriage.

When Jackson offers her something quite out of the ordinary, will Ellie look beyond mere necessity and risk opening her heart?


- Publisher

With no means to support herself, Ellie Kilmer agrees to work as a housekeeper for the young widower who lives on Dillon Island, hopeful she can obtain a proper reference. But Jackson Smith quickly realizes that Ellie's presence may solve his own problems--both the rearing of his young boys and the scandal that surrounds his first marriage. When a marriage of convenience is offered, Ellie is initially humiliated. Though she is past the age most women marry, she has more pride than to agree to his outlandish suggestion. Yet what options does she have? To marry would mean a home and stability. So despite the rumors circling Jackson and his first wife, Ellie accepts this unlikely proposal...
- Publisher


Meet the Author
Delia Parr
Delia Parr is the author of nine novels. She lives in southern New Jersey, where she teaches high school. ý
Customer Reviews For "Hearts Awakening"
Write Your Own Review
Heartwrenching
By BecInChina,

Feb 12 2017
What a poignant tale of brokenness, forgiveness, and coming to recognize the gifts that sometimes come wrapped in drabby brown.
---
Recommended
By Lynne Stringer,

May 07 2015
I enjoyed Hearts Awakening, which went a little differently from the average Christian romance novel, and that was a nice surprise. Also, Jackson was, at times, difficult to like, but since I could understand his lack of trust, it made him more real. I often felt the Christian element was being forced in and sometimes the dialogue seemed a little stilted, but it was still highly entertaining. 
---
A lovely historical romance
By Audrey,

Apr 12 2014
This book was a beautiful story of forgiveness and letting go of past hurts. Ellie was such a great character. I enjoyed the fact that she was described as a plain and unattractive spinster. So different from the usual romance novels where the main character is usually perfect. Ellie portrayed strong character and convictions and that made her the attractive person she is. I loved how she stood up for herself and did not dissolve with being faced with difficult situations. Jackson's journey was also very well written.Altogether a lovely story.
---
Love realised
By Rochelle, NSW,

Mar 24 2014
What a great story! Ellie is a strong, caring, loving, guiding character. Have so enjoyed getting to know her heart, her longings and seeing the many ways that she continued to give of herself even when hurting. Jackson is tough, good looking and learning how to let go of life's woundings. I like that these two characters deal with real and everyday stuff of life. Even though a historical setting, we still feel and deal with many of the things that these two characters do. 
Delia Parr beautifully walks Ellie and Jackson through times of misunderstanding and awkward communication to a place of forgiveness of each other and things in their pasts to find that they love and treasure and need each other. 
Really enjoyed this story of traditions, society's harshness, belonging, acceptance and in the end Love. 
Enjoy it. I have.
{{review.title}}
By {{review.author.name}},

{{review.reviewCreatedDate | date:'MMM dd yyyy'}}

{{reviewdescription}}
{{review.text}}
---