Heart's Safe Passage (#02 in Midwives Series)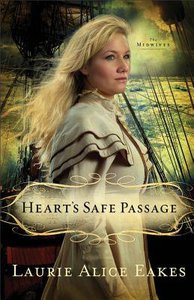 A colonial midwife is spirited away by an English agent--will she make it home again with her heart intact?

- Publisher It's 1813 and all Phoebe Lee wants out of life is to practice midwifery in Loudon County, Virginia. When Belinda, her pregnant sister-in-law, presses Phoebe to accompany her onto a British privateer in order to cross the Atlantic and save her husband from an English prison, Phoebe tries to refuse, then finds herself kidnapped.

Captain Rafe Docherty is a man in search of revenge. His ship is no place for women, but he needs Belinda in order to obtain information about the man who destroyed his family and his life. Between Belinda's whining and Phoebe's hostility, Rafe can't help but wonder if he made the right choice.
When it becomes apparent there is an enemy among them on the ship, the stakes are raised. Will they reach the English shore in time? Can love and forgiveness overcome vengeance?

Book 2 in The Midwives series, Heart's Safe Passage is a stirring tale of love, intrigue, and adventure on the high seas. Readers will feel the salt spray and the rolling waves as they journey with Laurie Alice Eakes's vivid characters on the treacherous path toward redemption.

- Publisher
You May Also Be Interested In
About "Heart's Safe Passage (#02 in Midwives Series)"
A colonial midwife is spirited away by an English agent--will she make it home again with her heart intact?
- Publisher

It's 1813 and all Phoebe Lee wants out of life is to practice midwifery in Loudon County, Virginia. When Belinda, her pregnant sister-in-law, presses Phoebe to accompany her onto a British privateer in order to cross the Atlantic and save her husband from an English prison, Phoebe tries to refuse, then finds herself kidnapped.

Captain Rafe Docherty is a man in search of revenge. His ship is no place for women, but he needs Belinda in order to obtain information about the man who destroyed his family and his life. Between Belinda's whining and Phoebe's hostility, Rafe can't help but wonder if he made the right choice.
When it becomes apparent there is an enemy among them on the ship, the stakes are raised. Will they reach the English shore in time? Can love and forgiveness overcome vengeance?

Book 2 in The Midwives series, Heart's Safe Passage is a stirring tale of love, intrigue, and adventure on the high seas. Readers will feel the salt spray and the rolling waves as they journey with Laurie Alice Eakes's vivid characters on the treacherous path toward redemption.
- Publisher


Meet the Author
Laurie Alice Eakes
Laurie Alice Eakes is the author of "Lady in the Mist", "Heart's Safe Passage", "A Necessary Deception", "A Flight of Fancy", and several other novels. She won a National Readers Choice Award for Best Regency in 2007 for Family Guardian. Laurie Alice writes full-time from her home in Texas, where she lives with her husband and sundry dogs and cats. A
Customer Reviews For "Heart's Safe Passage (#02 in Midwives Series)"
Write Your Own Review
Dark
By Ibu Guru,

Dec 02 2015
Some people like reading about killings, unrelenting trouble, unrepentant sinners, Dr Jekyll and Mr Hyde types, in which case this book will delight you.  It is very well written and probably has a happy ending - I couldn't read that far as it was too depressing for me. ( I got to 89% read  with skipping the goriest bits.)
Besides star ratings, perhaps books should have other ratings.  This one would be M for mature themes,  graphic violence.
---
Captivating story
By Hannah,

May 26 2015
Really enjoyed this book from start to end. I love the way the characters grew through it, their relationships and the love story not just between the two main characters but others in the story as well. While there was very little preaching in it, it was difficult to come away from reading it without feeling as if God had been speaking through it. I laughed, I cried, I even felt a little seasick myself at times! So yes, definitely a good book!

---
Absorbing reading
By Jacqui,

Mar 01 2015
This is the second book of Laurie Alice Eakes in the Midwives series although it can be read on it's own. This story follows the life of Phoebe Lee who learnt how to be a midwife from Tabitha in Book 1. Set on a ship, or rather a brig as the captain keeps correcting Phoebe,  during the war in 1812 it is full of drama and suspense. I loved the way the author has developed the chemistry between Phoebe and the ship's captain. As each of the main characters work through the pain of their individual pasts they help each other to see more of God's character and love.  Laurie Alice Eakes has tastefully woven bible teaching throughout the story making it more than just a light romance. I loved it.
{{review.title}}
By {{review.author.name}},

{{review.reviewCreatedDate | date:'MMM dd yyyy'}}

{{reviewdescription}}
{{review.text}}
---
Other Titles In The "Midwives" Series