Heaven is Now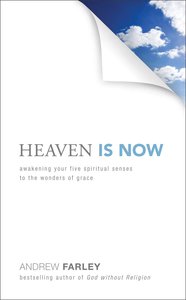 What if heaven wasn't just meant to be experienced after we die? What if heaven can be enjoyed here on earth--right now?

Bestselling author Andrew Farley shows us how to take in the beauty of heaven no matter what our circumstances. With insight firmly rooted in the reality of pain and suffering, Andrew assures readers that heaven is not some pie-in-the-sky dream for the future--it is now. He shows us how to awaken our five spiritual senses in order to see, hear, smell, taste, and feel the grace of heaven, even in the midst of trouble here on earth. He says the heaven we can experience in this life lies within us, far beyond the reach of the world--but well within our grasp.

- Publisher
You May Also Be Interested In
About "Heaven is Now"
What if heaven wasn't just meant to be experienced after we die? What if heaven can be enjoyed here on earth--right now?

Bestselling author Andrew Farley shows us how to take in the beauty of heaven no matter what our circumstances. With insight firmly rooted in the reality of pain and suffering, Andrew assures readers that heaven is not some pie-in-the-sky dream for the future--it is now. He shows us how to awaken our five spiritual senses in order to see, hear, smell, taste, and feel the grace of heaven, even in the midst of trouble here on earth. He says the heaven we can experience in this life lies within us, far beyond the reach of the world--but well within our grasp.
- Publisher


Meet the Author
Andrew Farley
Andrew Farley (Ph.D., University of Illinois at Urbana-Champaign) is lead pastor of Ecclesia, a growing evangelical church located on the high plains of west Texas. He was formerly a professor at University of Notre Dame. He co-hosts Real Life in Christ, a television program that airs on ABC-TV in the West Texas and New Mexico area. He is a tenured professor of Applied Linguistics at Texas Tech University, and lives in Lubbock, Texas with his wife Katharine and their son Gavin. He has authored books in linguistics and theology most recently The Naked Gospel: The Truth You May Never Hear in Church and God without Religion: Can It Really Be This Simple?
-Editorial Review.