Heaven: It's Not the End of the World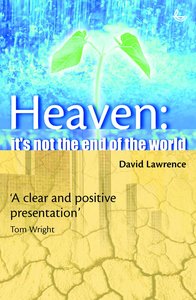 David Lawrence has been in full-time ministry since 1990, first as a voluntary youth and schools worker for 3 years then as an Assistant Minister for 4 1/2 years in Dagenham before planting Stafford Christian Life Center (AoG) where he serves as senior Pastor.

- Publisher In an unstable and pain-filled world, how can Christians aspire to be a people of hope? Does the Bible really lead us to expect a future life in a vague, ethereal realm called 'heaven', while this earth heads for the cosmic incinerator? In the light of the threat of global terrorism, many are concerned to know about the future. In a clear and positive manner, this book emphasises the Bible's teaching about the new earth that God will create, and explores what living on it may be like. Contemporary implications of a biblical view of heaven are spelled out in the final chapter. It also holds immediate, practical implications for Christians concerned about missions, social justice, and environmental issues in today's world.

- Publisher Introduces the Bible's teaching about the new earth that God will create, and explores imaginatively what living on it may be like. A fascinating read. In the wake of the disastrous events of September 11th, many people are asking questions and searching for answers about heaven and eternal life. Scripture Union have therefore reprinted this excellent, thought-provoking book which gives a trustworthy summary of the Bible's teaching on heaven, and the promise of a new earth. It provides a counter-view to traditional ideas of wispy spirits, clutching harps and singing the Hallelujah Chorus With biblical foundations and visions of life on the new earth, readers are asked to consider what it may really be like. The final chapter explores the contemporary implications. With a brand new jacket to bring it right up to date; you may well find that this is just the book your customers are seeking in the present climate.

- Publisher
You May Also Be Interested In
About "Heaven: It's Not the End of the World"
David Lawrence has been in full-time ministry since 1990, first as a voluntary youth and schools worker for 3 years then as an Assistant Minister for 4 1/2 years in Dagenham before planting Stafford Christian Life Center (AoG) where he serves as senior Pastor.
- Publisher

In an unstable and pain-filled world, how can Christians aspire to be a people of hope? Does the Bible really lead us to expect a future life in a vague, ethereal realm called 'heaven', while this earth heads for the cosmic incinerator? In the light of the threat of global terrorism, many are concerned to know about the future. In a clear and positive manner, this book emphasises the Bible's teaching about the new earth that God will create, and explores what living on it may be like. Contemporary implications of a biblical view of heaven are spelled out in the final chapter. It also holds immediate, practical implications for Christians concerned about missions, social justice, and environmental issues in today's world.
- Publisher

Introduces the Bible's teaching about the new earth that God will create, and explores imaginatively what living on it may be like. A fascinating read. In the wake of the disastrous events of September 11th, many people are asking questions and searching for answers about heaven and eternal life. Scripture Union have therefore reprinted this excellent, thought-provoking book which gives a trustworthy summary of the Bible's teaching on heaven, and the promise of a new earth. It provides a counter-view to traditional ideas of wispy spirits, clutching harps and singing the Hallelujah Chorus With biblical foundations and visions of life on the new earth, readers are asked to consider what it may really be like. The final chapter explores the contemporary implications. With a brand new jacket to bring it right up to date; you may well find that this is just the book your customers are seeking in the present climate.
- Publisher


Meet the Author
David Lawrence
David Lawrence, in addition to being a talented novelist, is also an acclaimed poet and highly successful scriptwriter. "Cold Kill" is his third novel in the Detective Stella Mooney series--his previous titles, "The Dead Sit Round in a Ring" and "Nothing Like the Night, "have received widespread rave reviews. The author lives in southwest London and is hard at work on the next book in the series, which Thomas Dunne Books/St. Martin's Minotaur will publish next year.
Table Of Contents
Preface Part 1: Biblical Foundations For A New Earth 1. Where On Earth Are We Going? (the New Earth In The Old Testament) 2. The Renewal Of All Things (the New Earth In The New Testament) 3. So What About Heaven? (a Re-examination Of Heaven) 4. A Walk In The Paradise Garden (between Death And Resurrection) 5. Let's Get Physical (a New Body For A New Earth) Part 2: Visions Of Life On The New Earth 6. Person To Person (relationships In The New Earth) 7. It's Life, Folks, But Not As We Know It (life On The New Earth) 8. Three Visionary Tales (george's Tale, Harold's Tale, Gabriella's Tale) Part 3: Contemporary Implications Of Belief In A Renewed Earth 9. Knowing The End From The Beginning (living In Anticipation Of The New Earth)