Heaven: My Father's House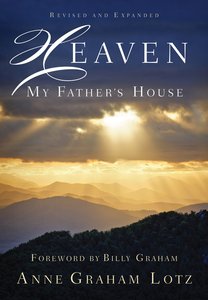 :Revised and Updated Edition

With over 40 percent new and revised content, Anne Graham Lotz has updated her classic book on Heaven for a whole new generation of readers but also for herself. With her mother now gone and her husband and father both in failing health, Lotz beautifully adds her own vulnerability and stories to the journey contained in Heaven: My Father's House.

Jesus promised us, "In My Father's house are many rooms...I am going there to prepare a place for you." Amid the turbulence of today's world, we cling to the hope of a heavenly home where we will be welcomed into eternal peace and safety. Anne affirms that Heaven truly is the home of your dreams: a home of lasting value that's fully paid for and filled with family, where you will be wanted and welcomed. Best of all, Heaven is a home you are invited to claim as your own.

- Publisher
You May Also Be Interested In
About "Heaven: My Father's House"
:Revised and Updated Edition

With over 40 percent new and revised content, Anne Graham Lotz has updated her classic book on Heaven for a whole new generation of readers but also for herself. With her mother now gone and her husband and father both in failing health, Lotz beautifully adds her own vulnerability and stories to the journey contained in Heaven: My Father's House.

Jesus promised us, "In My Father's house are many rooms...I am going there to prepare a place for you." Amid the turbulence of today's world, we cling to the hope of a heavenly home where we will be welcomed into eternal peace and safety. Anne affirms that Heaven truly is the home of your dreams: a home of lasting value that's fully paid for and filled with family, where you will be wanted and welcomed. Best of all, Heaven is a home you are invited to claim as your own.
- Publisher


Meet the Author
Anne Graham Lotz
Anne Graham Lotz is daughter of Billy and Ruth Graham, is the President and Executive Director of AnGeL Ministries, a non-profit organization offering Christian outreach. Anne has spoken on all seven continents in more than twenty foreign countries, proclaiming the word of God at seminaries, colleges, conferences and revivals. She has written many other books, including The Vision of His Glory, God's Story, Just Give Me Jesus, My Heart's Cry, and Heaven. Anne and her husband, Daniel, reside in Raleigh, North Carolina.