Heaven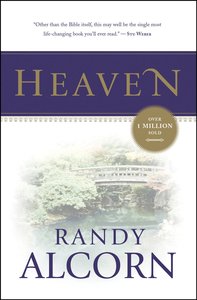 What will heaven be like? Randy Alcorn presents a thoroughly biblical answer, based on years of careful study, presented in an engaging, reader-friendly style. His conclusions will surprise readers and stretch their thinking about this important subject. HEAVEN will inspire readers to long for heaven while they're living on earth.


- Publisher Have you ever wondered . . . What is Heaven really going to be like?. What will we look like?. What will we do every day?. Wont Heaven get boring after a while? We all have questions about what Heaven will be like, and after twenty-five years of extensive research, Dr. Randy Alcorn has the answers.lt;p>In the most comprehensive and definitive book on Heaven to date, Randy invites you to picture Heaven the way Scripture describes ita bright, vibrant, and physical New Earth, free from sin, suffering, and death, and brimming with Christ's presence, wondrous natural beauty, and the richness of human culture as God intended it. God has put eternity in our hearts. Now, Randy Alcorn brings eternity to light in a way that will surprise you, spark your imagination, and change how you live today. If youve always thought of Heaven as a realm of disembodied spirits, clouds, and eternal harp strumming, youre in for a wonderful surprise.lt;p>This is a book about real people with real bodies enjoying close relationships with God and each other, eating, drinking, working, playing, traveling, worshiping, and discovering on a New Earth. Earth as God created it. Earth as he intended it to be. And the next time you hear someone say, We cant begin to imagine what Heaven will be like, you will be able to tell them,lt;i>I can."

- Publisher
You May Also Be Interested In
About "Heaven"
What will heaven be like? Randy Alcorn presents a thoroughly biblical answer, based on years of careful study, presented in an engaging, reader-friendly style. His conclusions will surprise readers and stretch their thinking about this important subject. HEAVEN will inspire readers to long for heaven while they're living on earth.

- Publisher

Have you ever wondered . . . What is Heaven really going to be like?. What will we look like?. What will we do every day?. Wont Heaven get boring after a while? We all have questions about what Heaven will be like, and after twenty-five years of extensive research, Dr. Randy Alcorn has the answers.lt;p>In the most comprehensive and definitive book on Heaven to date, Randy invites you to picture Heaven the way Scripture describes ita bright, vibrant, and physical New Earth, free from sin, suffering, and death, and brimming with Christ's presence, wondrous natural beauty, and the richness of human culture as God intended it. God has put eternity in our hearts. Now, Randy Alcorn brings eternity to light in a way that will surprise you, spark your imagination, and change how you live today. If youve always thought of Heaven as a realm of disembodied spirits, clouds, and eternal harp strumming, youre in for a wonderful surprise.lt;p>This is a book about real people with real bodies enjoying close relationships with God and each other, eating, drinking, working, playing, traveling, worshiping, and discovering on a New Earth. Earth as God created it. Earth as he intended it to be. And the next time you hear someone say, We cant begin to imagine what Heaven will be like, you will be able to tell them,lt;i>I can."
- Publisher


Meet the Author
Randy Alcorn
Randy is the author of Heaven which has sold over 4 million copies as well as the novel Courageous.Eternity with Kingstone Media is his first graphic novel.
Customer Reviews For "Heaven"
Write Your Own Review
Life changing- the true meaning of Hope
By Suzy,

Feb 07 2018
I'm buying my second book so I can keep one to read regularly  and pass one around. This book reminds us of why we all are so grateful for our salvation but more than this- it puts a true perspective on our lives. I had so many "if only" in my vocabulary before I read this book. But now I know none of that matters- we have SO much to look forward to- this life is just a passing through and  eternity is when we will really find life. Also makes me really want to share the Gospel to people without hope.  
---
Eye opening
By Paul,

Nov 07 2017
This book is unlike any other book that has been written about heaven. It is very biblically sound without being too dry in the explanations. have given me new insights that i hadn't previously known about regarding a very important topic for our journey as a Christian. highly recommended and you won't regret adding this to your personal library.
---
Eye-Opening
By Sarah,

Sep 28 2014
What a great little audiobook! Firstly, i appreciated that the author himself was doing the narration. It was easy to listen to. Randy deals with common questions about heaven and our misconceptions about heaven. He leads us to Bible passages to get the answers and encourages Christians to live more in a way that looks forward to heaven, not focusing solely on earthly things. I enjoyed it and found it so encouraging.
{{review.title}}
By {{review.author.name}},

{{review.reviewCreatedDate | date:'MMM dd yyyy'}}

{{reviewdescription}}
{{review.text}}
---