Heaven Touching Earth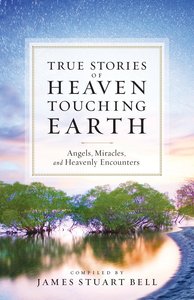 God Is Closer Than You Might Think

A thin curtain separates the physical world from the unseen spiritual realm. And sometimes God pulls it back to give us a glimpse of the other side. In Heaven Touching Earth, ordinary people share more than forty all-new stories of miracles, healing, divine provision and protection, and encounters with angels and demons.

These true, uplifting stories will remind you that even when you don't see obvious evidence of God at work in your life or get quick answers to prayer, there is a loving Father who protects and provides and is always working on your behalf in the invisible realm.

Whether you're simply curious about the supernatural world or longing for a fresh experience of God's presence, these inspiring stories will touch your heart and strengthen your faith in the God of miracles.

- Publisher
You May Also Be Interested In
About "Heaven Touching Earth"
God Is Closer Than You Might Think

A thin curtain separates the physical world from the unseen spiritual realm. And sometimes God pulls it back to give us a glimpse of the other side. In Heaven Touching Earth, ordinary people share more than forty all-new stories of miracles, healing, divine provision and protection, and encounters with angels and demons.

These true, uplifting stories will remind you that even when you don't see obvious evidence of God at work in your life or get quick answers to prayer, there is a loving Father who protects and provides and is always working on your behalf in the invisible realm.

Whether you're simply curious about the supernatural world or longing for a fresh experience of God's presence, these inspiring stories will touch your heart and strengthen your faith in the God of miracles.
- Publisher


Meet the Author
James Stuart (Jr) Bell (Comp)
James Stuart Bell, Jr., was director of religious publishing at Doubleday, executive director of Bridge Publishing, and executive editor at Moody Publishing. He has written or consulted for more than a dozen other Christian publishers. At present he is the owner of Whitestone Communications, Inc., a literary development agency. His roles include writer, editor, compiler, packager, publishing consultant, and literary agent. He has compiled Cup of Comfort, Life Savors, and God Encounters series, and the co-author of numerous books in the Complete Idiots Guide series. He makes his home in the western suburbs of Chicago and is married with four children.