Heaven Your Real Home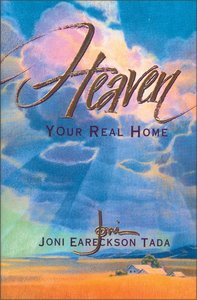 10 Chapters

- Publisher Step back a moment, focus your eyes of faith, and then come with Joni into a world you've heard about from your youth but have never seen: heaven. You just might discover that heaven is closer--and more real--than you've ever thought.In this joyful best-seller, Joni Eareckson Tada paints a shining portrait of our heart's true home. Joni talks about what heaven will be like, what we'll do, and whom we'll see. She shows how heaven will be the satisfaction of all that our hearts cry for, something more real than anything this side of eternity.And Joni tells how we can prepare now for the reality of heaven.With hope for today and vision for those who struggle in life, Heaven invites us to a refreshing and faith-filled picture of our glorious destination. Once you've caught a glimpse of heaven, you'll see earth in a whole new light.

- Publisher Joni Eareckson Tada is the founder of Joni and Friends, an organization accelerating Christian outreach in the disability community that numbers 610 million people worldwide. This organization operates out of the new Joni and Friends International Disability Center located in Agoura Hills, California. Joni is not only an international disability advocate but an artist and the author of numerous bestselling books, including Pearls of Great Price, Diamonds in the Dust, More Precious Than Silver, the Platinum award-winning Joni, Heaven: Your Real Home, When God Weeps, and The God I Love. Joni Eareckson Tada es el fundadora del Centro Internacional de Discapacidad Joni y sus amigos, una organizacion con sede en California que promueve el alcance cristiano en la comunidad de discapacitados a nivel mundial (www.joniandfriends.org). En 1967, un accidente durante un salto de clavado dejo cuadriplegica a Joni, pero los anos no fueron desaprovechados. Su siempre profundo amor por la Palabra de Dios ha generado mas de treinta y cinco libros, incluyendo sus exitosos devocionales, Diamantes en el polvo y Mas precioso que la plata. Joni y su esposo, Ken, han estado casados durante veinticuatro anos y tienen su hogar en Calabasas, California.

- Publisher
You May Also Be Interested In
About "Heaven Your Real Home"
10 Chapters
- Publisher

Step back a moment, focus your eyes of faith, and then come with Joni into a world you've heard about from your youth but have never seen: heaven. You just might discover that heaven is closer--and more real--than you've ever thought.In this joyful best-seller, Joni Eareckson Tada paints a shining portrait of our heart's true home. Joni talks about what heaven will be like, what we'll do, and whom we'll see. She shows how heaven will be the satisfaction of all that our hearts cry for, something more real than anything this side of eternity.And Joni tells how we can prepare now for the reality of heaven.With hope for today and vision for those who struggle in life, Heaven invites us to a refreshing and faith-filled picture of our glorious destination. Once you've caught a glimpse of heaven, you'll see earth in a whole new light.
- Publisher

Joni Eareckson Tada is the founder of Joni and Friends, an organization accelerating Christian outreach in the disability community that numbers 610 million people worldwide. This organization operates out of the new Joni and Friends International Disability Center located in Agoura Hills, California. Joni is not only an international disability advocate but an artist and the author of numerous bestselling books, including Pearls of Great Price, Diamonds in the Dust, More Precious Than Silver, the Platinum award-winning Joni, Heaven: Your Real Home, When God Weeps, and The God I Love. Joni Eareckson Tada es el fundadora del Centro Internacional de Discapacidad Joni y sus amigos, una organizacion con sede en California que promueve el alcance cristiano en la comunidad de discapacitados a nivel mundial (www.joniandfriends.org). En 1967, un accidente durante un salto de clavado dejo cuadriplegica a Joni, pero los anos no fueron desaprovechados. Su siempre profundo amor por la Palabra de Dios ha generado mas de treinta y cinco libros, incluyendo sus exitosos devocionales, Diamantes en el polvo y Mas precioso que la plata. Joni y su esposo, Ken, han estado casados durante veinticuatro anos y tienen su hogar en Calabasas, California.
- Publisher


Meet the Author
Joni Eareckson Tada
Joni Eareckson Tada has known the grace of God for 30 years after being after being paralysed from the neck down in a diving accident. Joni is president of JAF Ministries, an organization that accelerates Christian ministry among people with disabilities. She is also host of 'Joni and Friends', a daily radio program in the USA operating out of the International Disability Centre and a sought after conference speaker.
She is the author of more than 30 books, including the bestsellers Diamonds in the Dust, Heaven, and More Precious Than Silver.
In 2003 she was given the Gold Medallion Award for her book When God Weeps and in 2004 for co-authoring Hymns for a Kid's Heart, Volume 1. Her award winning and best-selling autobiography, Joni, was adapted as a full-length feature film. Tada also serves in an advisory capacity to many Institutes concerned with disability, writing and evangelism worldwide. She has been given many awards and holds several honourary doctorates. Joni and her husband, Ken, live in Southern California.