Hebrews (Catholic Commentary On Sacred Scripture Series)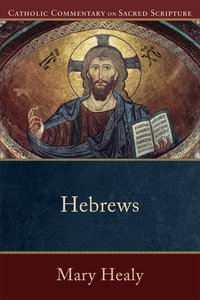 :Well-respected New Testament scholar and popular speaker Mary Healy unpacks the letter to the Hebrews, making its difficult and puzzling passages accessible to pastoral ministers, lay readers, and students. Her commentary shows how Hebrews reveals the meaning of Christ's death in light of the Old Testament figures, rites, and sacrifices that foreshadowed it. Healy explains that Hebrews, when fully understood, transforms our understanding of who God is, what he has done for us, and how we are to live as Christians today.

- Publisher
You May Also Be Interested In
About "Hebrews (Catholic Commentary On Sacred Scripture Series)"
:Well-respected New Testament scholar and popular speaker Mary Healy unpacks the letter to the Hebrews, making its difficult and puzzling passages accessible to pastoral ministers, lay readers, and students. Her commentary shows how Hebrews reveals the meaning of Christ's death in light of the Old Testament figures, rites, and sacrifices that foreshadowed it. Healy explains that Hebrews, when fully understood, transforms our understanding of who God is, what he has done for us, and how we are to live as Christians today.
- Publisher


Meet the Author
Mary Healy (Ed)
Dr. Mary Healy (S.T.D., summa cum laude, Biblical Theology, Pontifical Gregorian University) is a biblical scholar and a member of the Mother of GodCommunity, a Catholic and ecumenical lay charismatic community.
She is the author of New Catholic Commentary on Scripture, a mid-level multi-volume New Testament commentary series, co-edited with Peter Williamson. . First volumes forthcoming in 2008, The Bible and Epistemology: Biblical Soundings on the Knowledge of God. co-edited with Robin Parry, Men and Women Are from Eden: A Study Guide to John Paul IIs Theology of the Body, Out of Egypt: Biblical Theology and Biblical Interpretation, (eds.) Craig Bartholomew, Mary Healy, Robin Parry and Karl Mller and Behind the Text: History and Biblical Interpretation, (eds.) Craig Bartholomew, Mary Healy, Murray Rae and Stephen Evans.
Other Titles In The "Catholic Commentary On Sacred Scripture" Series View All