Hebrews (Paideia Commentaries On The New Testament Series)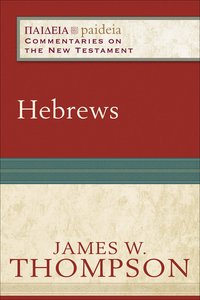 Hebrews, the second of eighteen volumes in the Paideia commentary series, brings the insight of a veteran teacher and writer to bear on a New Testament book whose rich imagery and memorable phrases have long shaped Christian discourse. The Paideia series approaches each text in its final, canonical form, proceeding by sense units rather than word-by-word or verse-by-verse. Each sense unit is explored in three sections: (1) introductory matters, (2) tracing the train of thought, (3) key hermeneutical and theological questions. The commentaries shed fresh light on the text while avoiding idiosyncratic readings, attend to theological meaning without presuming a specific theological stance in the reader, and show how the text uses narrative and rhetorical strategies from the ancient educational context to form and shape the reader.

- Publisher
You May Also Be Interested In
About "Hebrews (Paideia Commentaries On The New Testament Series)"
Hebrews, the second of eighteen volumes in the Paideia commentary series, brings the insight of a veteran teacher and writer to bear on a New Testament book whose rich imagery and memorable phrases have long shaped Christian discourse. The Paideia series approaches each text in its final, canonical form, proceeding by sense units rather than word-by-word or verse-by-verse. Each sense unit is explored in three sections: (1) introductory matters, (2) tracing the train of thought, (3) key hermeneutical and theological questions. The commentaries shed fresh light on the text while avoiding idiosyncratic readings, attend to theological meaning without presuming a specific theological stance in the reader, and show how the text uses narrative and rhetorical strategies from the ancient educational context to form and shape the reader.
- Publisher


Meet the Author
James W Thompson
James W. Thompson (PhD, Vanderbilt University) is the Robert and Kay Onstead Distinguished Professor of Biblical Studies at Abilene Christian University in Abilene, Texas, and associate dean of ACU's graduate school of theology. He is the editor of Restoration Quarterly and the author of several books, including Pastoral Ministry according to Paul, Preaching like Paul, The Beginnings of Christian Philosophy and Hebrews: Paideia Commentaries on the New Testament.
Other Titles In The "Paideia Commentaries On The New Testament Series" Series View All
$65.00




Available 0 Available. Expected to ship in 1 week from Australia.

Formats

$65.00




Available 0 Available. Expected to ship in 1 week from Australia.

Formats