Hell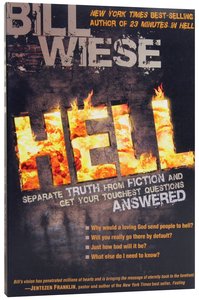 Hell is a popular topic in the marketplace today. But what about hell interests people most? Which questions are they REALLY asking? Through the numerous book tours and media interviews he has conducted with his New York Times best-selling 2006 release, 23 Minutes in Hell, Bill Wiese has listened to the top questions asked by both readers and the media and conclusively addresses then in his follow-up book, Hell. Formatted similar to Randy Alcorn's Heaven, this book includes stories and experiences from others with who he has talked, biblical information and teaching, and specific Scripture passages related to the topic. It will provide a response to recent media quoting pastors and church leaders worldwide who are not teaching that hell is a real place of torment.

- Publisher In September of 1998, God allowed Bill Wiese to experience the reality of hell. He chronicled his experiences in his New York Times best-selling book, 23 Minutes in Hell, describing a place of never-ending trauma, burning fire, and unquenchable thirst; a place where you are hopelessly lost and without human intervention forever.

- Publisher This book will tell you everything you wanted and didn't want to know about hell! Written in the style of Randy Alcorn's Heaven, it answers the questions from hundreds of people who read 23 Minutes in Hell or have heard the author speak on this subject. It will become your definitive handbook on hell, and contains fresh revelation and biblical information as well as stories from others related to the topic.

- Publisher
You May Also Be Interested In
About "Hell"
Hell is a popular topic in the marketplace today. But what about hell interests people most? Which questions are they REALLY asking? Through the numerous book tours and media interviews he has conducted with his New York Times best-selling 2006 release, 23 Minutes in Hell, Bill Wiese has listened to the top questions asked by both readers and the media and conclusively addresses then in his follow-up book, Hell. Formatted similar to Randy Alcorn's Heaven, this book includes stories and experiences from others with who he has talked, biblical information and teaching, and specific Scripture passages related to the topic. It will provide a response to recent media quoting pastors and church leaders worldwide who are not teaching that hell is a real place of torment.
- Publisher

In September of 1998, God allowed Bill Wiese to experience the reality of hell. He chronicled his experiences in his New York Times best-selling book, 23 Minutes in Hell, describing a place of never-ending trauma, burning fire, and unquenchable thirst; a place where you are hopelessly lost and without human intervention forever.
- Publisher

This book will tell you everything you wanted and didn't want to know about hell! Written in the style of Randy Alcorn's Heaven, it answers the questions from hundreds of people who read 23 Minutes in Hell or have heard the author speak on this subject. It will become your definitive handbook on hell, and contains fresh revelation and biblical information as well as stories from others related to the topic.
- Publisher


Meet the Author
Bill Wiese
Bill Wiese is the New York Times best-selling author of 23 Minutes in Hell. He has been a dedicated Christian and has served in various capacities including teaching and leading worship since 1970. He has appeared on several television and radio shows and is an accomplished speaker. Bill is a successful Realtor with over thirty years of experience. He lives with his wife, Annette, in Southern California.