Help! I'm Married to a Homeschooling Mom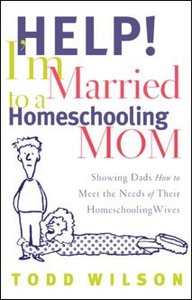 If you are a homeschooler, or are married to one, you know it's true! This special breed of wife and mother is a largely unsung hero ... that is until Todd Wilson decided to raise awareness, raise eyebrows, and raise some laughter. Sprinkled in between the seriously practical side of this book to husbands are Todd's own humorous cartoons. You'll need one for every homeschooling friend and church library!

- Publisher 112 Pages

- Publisher You'll laugh out loud as Todd shares his unique, refreshingly funny perspective and practical ideas for helping you encourage your homeschooling wife as she educates your kids. Whether you've been homeschooling for years or just getting started, Help! I'm Married to a Homeschooling Mom is required reading for every homeschooling dad! If any of that sounds familiar, you're in the right place. Todd Wilson, husband of a homeschooling mom, knows all about the unique challenges, concerns, and joys that come with being the head of a homeschooling household. And he's got a message just for you: If you really believe in homeschooling, then you must be willing to make some sacrifices. Your wife does every day. Book jacket.

- Publisher
You May Also Be Interested In
About "Help! I'm Married to a Homeschooling Mom"
If you are a homeschooler, or are married to one, you know it's true! This special breed of wife and mother is a largely unsung hero ... that is until Todd Wilson decided to raise awareness, raise eyebrows, and raise some laughter. Sprinkled in between the seriously practical side of this book to husbands are Todd's own humorous cartoons. You'll need one for every homeschooling friend and church library!
- Publisher

112 Pages
- Publisher

You'll laugh out loud as Todd shares his unique, refreshingly funny perspective and practical ideas for helping you encourage your homeschooling wife as she educates your kids. Whether you've been homeschooling for years or just getting started, Help! I'm Married to a Homeschooling Mom is required reading for every homeschooling dad! If any of that sounds familiar, you're in the right place. Todd Wilson, husband of a homeschooling mom, knows all about the unique challenges, concerns, and joys that come with being the head of a homeschooling household. And he's got a message just for you: If you really believe in homeschooling, then you must be willing to make some sacrifices. Your wife does every day. Book jacket.
- Publisher


Meet the Author
Todd Wilson
Todd Wilson (Ph.D. in New Testament at the University of Cambridge) is responsible for teaching and training adults at College Church, Wheaton Illinois. This includes our adult communities, mens and womens ministries, and several other opportunities for learning and growth. He joined the staff at College Church in September 2005, and is an adjunct instructor in biblical studies at Wheaton College. He is the author of The Curse of the Law and the Crisis in Galatia (Mohr-Siebeck), Paul's Life and Letters (Lion Publishing), and coeditor (with Leland Ryken) of Preach the Word: Essays on Expository Preaching: In Honor of Dr. R. Kent Hughes (Crossway). Todd and his wife, Katie, have three children. -Editorial Review.
Table Of Contents
1. Your Wife Needs: Your Help2. Your Wife Needs: Your Encouragement3. Your Wife Needs: Your Leadership4. Your Wife Needs: Your Listening Ear5. Your Wife Needs: Your Muscle6. Your Wife Needs: Your Money7. Your Wife Needs: Your Time8. Your Wife Needs: Your Understanding9. Your Wife Needs: Your Approval10. Your Wife Needs: Your Prayers11. Your Wife Needs: Your Sacrifice12. Your Wife Needs: The Two Biggies
Excerpt
Excerpt from: Help! I'm Married to a Homeschooling Mom
Dad, I applaud you for giving your family the privilege of being educated at home, and I sympathize with your plight of being married for a homeschooling mom. However, if you expect your wife to successfully pull off this homeschooling task, then she's go