Help Me, I've Fallen and I Can't Get Up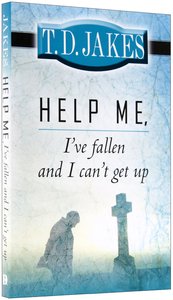 Life knocks everyone off balance at one time or another. The cause of the fall is not as important as what one does when he or she is down. Jakes explains how and whom to ask for help during a struggle to regain balance.

- Publisher
You May Also Be Interested In
About "Help Me, I've Fallen and I Can't Get Up"
Life knocks everyone off balance at one time or another. The cause of the fall is not as important as what one does when he or she is down. Jakes explains how and whom to ask for help during a struggle to regain balance.
- Publisher


Meet the Author
T D Jakes
Ministerial and business visionary, entrepreneurial trailblazer, altruistic philanthropist and spiritual shepherd to millions around the globe, Bishop T.D. Jakes is the senior pastor and founder of the Potter's House, a multi-racial, non-denominational church, located in Dallas, Texas. In 1996 this church was established with just 50 families and now 28,000 attend the Potter's House, what Christianity Today calls one of Americas fastest growing mega-churches. Bishop Jakes is also a highly celebrated author with several best-selling books. He frequently ministers in massive crusades and conferences across America, and his television show is widely viewed in millions of homes around the world. He was named in February 2005 Time Magazine as one of "The 25 Most Influential Evangelicals in America". - Publisher.