Her Daddy's Eyes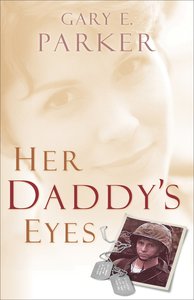 At thirty-three years of age, Allie Wilson is only three weeks away from marrying the handsome and respected Trey Thompson. She's successful, excited, and happy ... until she comes across an old photograph of her long-lost father. Suddenly everything changes for Allie... her heart, her focus, and maybe even her future.

Before her reluctant fiancé and hesitant mom can stop her, Allie launches a cross-country search for a father she can't remember. And on the way she meets a few people she can't get out of her mind--including the handsome and charming Chase Mason. Is it her curiosity, her conscience, her father's wish that spurs her on? Or could it be the will of God? All Allie knows is that she has a lot of questions--and there's only one man who can give her the answers.

- Publisher
You May Also Be Interested In
About "Her Daddy's Eyes"
At thirty-three years of age, Allie Wilson is only three weeks away from marrying the handsome and respected Trey Thompson. She's successful, excited, and happy ... until she comes across an old photograph of her long-lost father. Suddenly everything changes for Allie... her heart, her focus, and maybe even her future.

Before her reluctant fiancé and hesitant mom can stop her, Allie launches a cross-country search for a father she can't remember. And on the way she meets a few people she can't get out of her mind--including the handsome and charming Chase Mason. Is it her curiosity, her conscience, her father's wish that spurs her on? Or could it be the will of God? All Allie knows is that she has a lot of questions--and there's only one man who can give her the answers.
- Publisher


Meet the Author
Gary E Parker
Gary E. Parker is the best-selling author of ten novels and three novellas, including "Secret Tides" and "Fateful Journeys". A Christy Award finalist, Parker has become CBA's source for sweeping sagas of faith and family. A PhD graduate of Baylor University, he serves as the senior pastor of the First Baptist Church of Decatur, Georgia, and lives there with his wife, Melody, and daughters, Andrea and Ashley.