Her Mother's Hope (#01 in Marta's Legacy Series)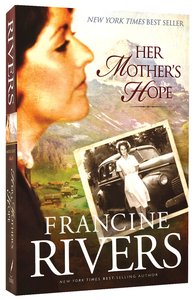 The first in an epic two-book saga by beloved author Francine Rivers, this New York Times best-selling story explores the complicated relationships between mothers and daughters over several generations.

Near the turn of the twentieth century, fiery Marta Schneider leaves Switzerland for a better life, determined to fulfill her mother's hope. Her formative journey takes her through Europe and eventually to Canada, where she meets handsome Niclas Waltert. But nothing has prepared her for the sacrifices she must make for marriage and motherhood as she travels to the Canadian wilderness and then to the dusty Central Valley of California to raise her family.

Marta's hope is to give her children a better life, but experience has taught her that only the strong survive. Her tough love is often misunderstood, especially by her oldest daughter, Hildemara Rose, who craves her mother's acceptance. Amid the drama of World War II, Hildie falls in love and begins a family of her own. But unexpected and tragic events force mother and daughter to face their own shortcomings and the ever-widening chasm that threatens to separate them forever.



- Publisher
You May Also Be Interested In
About "Her Mother's Hope (#01 in Marta's Legacy Series)"
The first in an epic two-book saga by beloved author Francine Rivers, this New York Times best-selling story explores the complicated relationships between mothers and daughters over several generations.

Near the turn of the twentieth century, fiery Marta Schneider leaves Switzerland for a better life, determined to fulfill her mother's hope. Her formative journey takes her through Europe and eventually to Canada, where she meets handsome Niclas Waltert. But nothing has prepared her for the sacrifices she must make for marriage and motherhood as she travels to the Canadian wilderness and then to the dusty Central Valley of California to raise her family.

Marta's hope is to give her children a better life, but experience has taught her that only the strong survive. Her tough love is often misunderstood, especially by her oldest daughter, Hildemara Rose, who craves her mother's acceptance. Amid the drama of World War II, Hildie falls in love and begins a family of her own. But unexpected and tragic events force mother and daughter to face their own shortcomings and the ever-widening chasm that threatens to separate them forever.


- Publisher


Meet the Author
Francine Rivers
New York Times best-selling author Francine Rivers (born 1947) began her literary career at the University of Nevada, Reno, where she graduated with a Bachelor of Arts degree in English and journalism. From 1976 to 1985, she had a successful writing career in the general market, and her books were highly acclaimed by readers and reviewers. Although raised in a religious home, Francine did not truly encounter Christ until later in life, when she was already a wife, a mother of three, and an established romance novelist.

Five years after becoming a born-again Christian in 1986, Francine released Redeeming Love as her statement of faith. This retelling of the biblical story of Gomer and Hosea, set during the time of the California Gold Rush, is now considered by many to be a classic work of Christian fiction. The popularity of Redeeming Love continues unabated over a quarter of a century after its publication.

Since Redeeming Love, Francine has published numerous novels with Christian themes - all best sellers. The Last Sin Eater, earned her the CBA Gold Medal award and has since been made into a feature film - She has continued to win both industry acclaim and reader loyalty around the globe. Her Christian novels have been awarded or nominated for numerous honours, including the RITA Award, the Christy Award, the ECPA Gold Medallion, and the Holt Medallion in Honour of Outstanding Literary Talent. In 1997, after winning her third RITA Award for inspirational fiction, Francine was inducted into the Romance Writers of America's Hall of Fame. Francine's books have been translated into over thirty languages, and she enjoys best-seller status in many countries, including Germany, the Netherlands, and South Africa.

Francine and her husband, Rick, live in northern California and enjoy time spent with their three grown children and taking every opportunity to spoil their grandchildren. Francine uses her writing to draw closer to the Lord, and she desires that through her work she might worship and praise Jesus for all He has done and is doing in her life.
Media
Customer Reviews For "Her Mother's Hope (#01 in Marta's Legacy Series)"
Write Your Own Review
Can't put this down
By Ling,

Apr 06 2017
I started on this book with low expectations as the book cover didn't look very exciting. The story started off slow but it soon picked up pace and I found myself staying up to read it every night. The storyline is solid and it spans across several generations and historical periods. Fantastic book that deserves more than one reading!
---
Lovely novel
By Madeleine,

Jun 28 2016
Her Mother's Hope is another great book by Francine Rivers. It is hard to put down once you start reading - its a great thing that its a thick book because its a story you don't want to end. I also love how the book is split into the point of view from both the mother and then the daughter. The story is one that everyone can relate to. 
---
Riveting
By EstherN,

Sep 05 2015
Her mother's hope is a relatable book about a mother's relationship with her daughter. Definitely a page turner. A confronting book detailing what a woman had to go through to be where she's at, looking back on her relationship with her own motherfamily and her dealings with her own family especially her daughter and how God played a role in all of it. I can't wait to read further to the second book in the series 'Her daughter's dream'. A definite must read! I would buy this 2 book series as gifts for friendsfamilies who love to read.
---
Incredible Story
By Shelley H,

Jan 27 2014
Her Mother's Hope is the first of an absolutely brilliant series.  This book is nearly impossible to put down once you start it.  I read it every chance I could get until I had finished it and then onto "Her Daughter's Dream".  This would be the best fiction I have ever read. The characters are very realistic and the story one that everyone can relate to.  This series deeply touched my soul and I am better for having read the books. I laughed and cried along with the characters.  I highly recommend this series.
---
Great read
By DonnaW,

Nov 02 2012
I loved Francine Rivers' "Her Mother's Hope" for many reasons. Firstly, of course, because of the rich story exploring the relationships between the characters, particularly the mothers and daughters. Francine explores what motivates them to behave in the ways they do, the decisions they make and the repercussions of those decisions which can be long lasting (and, in this case, leads into the second book in the series, "Her Daughter's Dream"). The first half of the book is told from Marta (the mother's point of view) and the second half is told from her daughter's viewpoint and so we see how actions and intentions can be misunderstood and damage relationships. I found it fascinating reading and lost a lot of sleep because I could not put it down! The second reason I enjoyed this story was the escape to another time and place as the story begins in the early 1900's in Switzerland and travels via France and London to Canada and California. It is a generational saga so we live with the characters through two world wars and the effect this has on the Swiss born heroine and her German husband in America.
Thoroughly entertaining and thought-provoking, the characters are very real and the story well told. I have been recommending it to my friends and buying it as gifts.
{{review.title}}
By {{review.author.name}},

{{review.reviewCreatedDate | date:'MMM dd yyyy'}}

{{reviewdescription}}
{{review.text}}
---
Other Titles In The "Marta's Legacy" Series View All