Her One and Only (#04 in Porter Family Novel Series)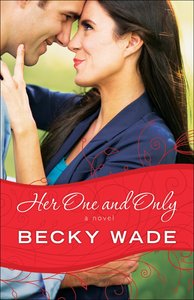 :Romance Fans Eagerly Anticipate Every New Release from Becky Wade

Gray Fowler, star NFL tight end, is being pursued by a stalker, so his team hires a protection agency to keep Gray under the watch of a bodyguard at all times. When Gray meets Dru Porter, an agent assigned to him, he's indignant. How can an attractive young female half his size possibly protect him?

But Dru's a former Marine, an expert markswoman, and a black belt. She's also ferociously determined to uncover the identity of Gray's stalker. And she's just as determined to avoid any kind of romantic attachment between herself and the rugged football player with the mysterious past. But the closer they get to finding the stalker, the closer they grow to each other. As the danger rises, can Dru and Gray entrust their hearts--and their lives--to one another?

- Publisher
You May Also Be Interested In
About "Her One and Only (#04 in Porter Family Novel Series)"
:Romance Fans Eagerly Anticipate Every New Release from Becky Wade

Gray Fowler, star NFL tight end, is being pursued by a stalker, so his team hires a protection agency to keep Gray under the watch of a bodyguard at all times. When Gray meets Dru Porter, an agent assigned to him, he's indignant. How can an attractive young female half his size possibly protect him?

But Dru's a former Marine, an expert markswoman, and a black belt. She's also ferociously determined to uncover the identity of Gray's stalker. And she's just as determined to avoid any kind of romantic attachment between herself and the rugged football player with the mysterious past. But the closer they get to finding the stalker, the closer they grow to each other. As the danger rises, can Dru and Gray entrust their hearts--and their lives--to one another?
- Publisher


Meet the Author
Becky Wade
Becky Wade is a graduate of Baylor University. As a newlywed, she lived for three years in a home overlooking the turquoise waters of the Caribbean, as well as in Australia, before returning to the States. A mom of three young children, Becky and her family now live in Dallas, Texas. Visit her website at www.beckywade.com. A
Customer Reviews For "Her One and Only (#04 in Porter Family Novel Series)"
Write Your Own Review
Delightful and deep
By Hannah,

Apr 16 2017
The last of the Porter Family series, this book not only told Dru's story but tied up some of the rest of the siblings' stories. It had a lot more suspense than the others but was just as enjoyable. I love the Porter family! They have their issues, certainly, and some serious ones at that, but they truly love each other - and that's never been more obvious than in this book when one of their own is in danger. 

It's a story taking on a lot of deep issues - the long-term effects of child abuse on an adult, trust, living out faith, forgiveness, fame and worth - but within the confines of a beautiful story of two people finding each other and falling in love. Great way to end the series. 

---
Waiting is over!
By Rochelle, NSW,

Jan 05 2017
Way to get a reader in! Start with a shooting, almost felt like I was reading a Henderson or Eason book. Dru Porter is one tough main Character but then Gray Fowler is hardly a 'light weight' main lead either.
There is a lot of detail into the 'issues' for each personality but in many ways I enjoy the 'reasons' for character traits. Gray has some depth to him that once he figures it out complement Dru's need to find home. Thankfully they find it together. I also really loved that Becky wrote in Meg and Bo's continuing story too!!
Enjoy, I have. One of the best holiday reads of 2017 :)
---
Intense romantic mystery
By Jacqui,

Aug 07 2016
Becky Wade saved the best until last with this final book in the Porter family series. I found it gripping from the prolong until the epilogue. The chemistry between Dru and Gray adds the fun side of the story. I loved how they both had to work through some things from their past which was effecting their behavior while they were trying to work out their future. This was handled realistically making it very encouraging and inspiring too. Although the final book in a four book series it still makes sense if you haven't read the others. A very enjoyable book to read.
---
Enjoyable end to series
By Iola,

May 13 2016
I've found Becky Wade's Porter Family series to be a bit hit-and-miss. I love the characters, I love the writing, and I love the plots. What I don't love is too much attention paid to the subplot and back story at the expense of the main story. 

Her One and Only was a classic example: it's been nine years since Undeniably Yours, the first novel in the series, and the first quarter of Her One and Only spent too much time on the back story and too little time getting to the central plot. With all respect to Meg, this wasn't her story. It was Dru's.

And Dru's story was excellent. The plot was more romantic suspense than straight romance, which I liked. She's twenty-six, an ex-Marine who now works in "executive protection" (i.e. private security). She's one of the team designated to protect Mustangs football legend Gray Fowler, who has been receiving threats. 

Overall, I think this was my favourite novel of the series (although A Love Like Ours had the better cover, and is a finalist for the RITA Awards). Recommended for contemporary romance and romantic suspense fans. 

Thanks to Bethany House and NetGalley for providing a free ebook for review.
{{review.title}}
By {{review.author.name}},

{{review.reviewCreatedDate | date:'MMM dd yyyy'}}

{{reviewdescription}}
{{review.text}}
---
Other Titles In The "Porter Family Novel Series" Series View All