Her Restless Heart (#1 in Stitches In Time Series)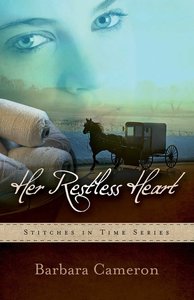 Mary Katherine is caught between the traditions of her faith and the pull of a different life. When Daniel, an Amish man living in Florida, arrives and shares her restlessness, Mary Katherine feels drawn to him and curious about the life he leads away from Lancaster County.  
But her longtime friend Jacob has been in love with her for years. He's discouraged that she's never viewed him as anything but a friend and despairs that he is about to lose Mary Katherine to this outsider.  
Will the conflicted Mary Katherine be lost to the
Englisch
world, or to Daniel, who might take her away to Florida? Or will she embrace her Amish faith and recognize Jacob as the man she should marry and build a life with?
"You'll laugh and cry right alongside the characters in this story that tests a young woman's faith in Gods's plan for her life." - Loree Lough, best-selling author of more than 80 award-winning books, including
From Ashes to Honor
, #1 in the First Responders series.)
"Master storyteller Barbara Cameron instantly draws readers in with vivid description and powerful dialogue, as she offers a glimpse of Amish life while showing the universal human need for loving and being loved. Her Restless Heart will satisfy even the most discriminating romance fans."   Debby Mayne, author of Sweet Baklava and the upcoming Class Reunion series
- Publisher
You May Also Be Interested In
About "Her Restless Heart (#1 in Stitches In Time Series)"
Mary Katherine is caught between the traditions of her faith and the pull of a different life. When Daniel, an Amish man living in Florida, arrives and shares her restlessness, Mary Katherine feels drawn to him and curious about the life he leads away from Lancaster County.  

But her longtime friend Jacob has been in love with her for years. He's discouraged that she's never viewed him as anything but a friend and despairs that he is about to lose Mary Katherine to this outsider.  

Will the conflicted Mary Katherine be lost to the Englisch world, or to Daniel, who might take her away to Florida? Or will she embrace her Amish faith and recognize Jacob as the man she should marry and build a life with?

"You'll laugh and cry right alongside the characters in this story that tests a young woman's faith in Gods's plan for her life." - Loree Lough, best-selling author of more than 80 award-winning books, including From Ashes to Honor, #1 in the First Responders series.)


"Master storyteller Barbara Cameron instantly draws readers in with vivid description and powerful dialogue, as she offers a glimpse of Amish life while showing the universal human need for loving and being loved. Her Restless Heart will satisfy even the most discriminating romance fans."   Debby Mayne, author of Sweet Baklava and the upcoming Class Reunion series
- Publisher
Meet the Author
Barbara Cameron
Barbara Cameron (Edgewater, FL) is a freelance writer and thBarbara Cameron (Edgewater, FL) is a freelance writer and the author of several fiction and nonfiction books. She is alse author of several fiction and nonfiction books. She is also a contributor to the The aI Have a Lifea Brideas Guide, ano a contributor to the The aI Have a Lifea Brideas Guide, and several of her fiction stories were made into HBO/Cinemax d several of her fiction stories were made into HBO/Cinemax movies. She has helped plan many weddings for friends and famovies. She has helped plan many weddings for friends and fa
Other Titles In The "Stitches In Time" Series
$25.99




Order now to secure your copy when our stock arrives. 0 Available. Expected to ship in 7 to 8 weeks from Australia.

Formats

$25.99




Order now to secure your copy when our stock arrives. eBook is Available. 0 Available. Expected to ship in 7 to 8 weeks from Australia.

Formats

$25.99




Order now to secure your copy when our stock arrives. 0 Available. Expected to ship in 7 to 8 weeks from Australia.

Formats