Heretics (Authentic Digital Classics Series)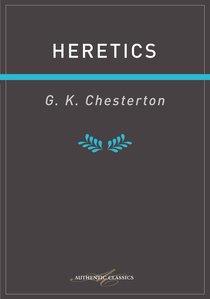 In this 1905 collection of articles Chesterton exposes the faulty thinking underlying popular modern "heresies" such as negativism, relativism, neo-paganism, puritanism, aestheticism, and individualism. The book includes one of his best essays: "On Certain Modern Writers and the Institution of Family." With his characterstic wit and wisdom, Chesterton brilliantly critiques writers such as Rudyard Kipling, G B Shaw, and H G Wells, whose views are still influential today.

- Publisher
Also Available In
You May Also Be Interested In
About "Heretics (Authentic Digital Classics Series)"
In this 1905 collection of articles Chesterton exposes the faulty thinking underlying popular modern "heresies" such as negativism, relativism, neo-paganism, puritanism, aestheticism, and individualism. The book includes one of his best essays: "On Certain Modern Writers and the Institution of Family." With his characterstic wit and wisdom, Chesterton brilliantly critiques writers such as Rudyard Kipling, G B Shaw, and H G Wells, whose views are still influential today.
- Publisher


Meet the Author
G K Chesterton
Gilbert Keith Chesterton was born in London, England, in 1874. He went on to study art at the Slade School, and literature at University College in London. Chesterton wrote a great deal of poetry, as well as works of social and literary criticism. Among his most notable books are The Man Who Was Thursday, a metaphysical thriller, and The Everlasting Man, a history of humankind's spiritual progress. After Chesterton converted to Catholicism in 1922, he wrote mainly on religious topics such as Orthodoxy and Heretics. Chesterton is most known for creating the famous priest-detective character Father Brown, who first appeared in The Innocence of Father Brown. Chesterton died in 1936 at the age of 62.
Other Titles In The "Authentic Digital Classics" Series View All