Hiding in the Light: Why I Risked Everything to Leave Islam and Follow Jesus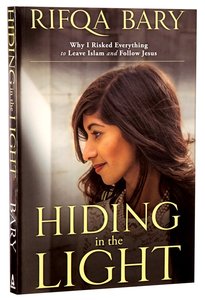 $19.99
$15.99
You Save: $4.00 (20%)
Paperback
Rifqa Bary grew up in a devout Muslim home, obediently following her parents' orders to practice the rituals of Islam. But God was calling her to freedom and love. He was calling her to true faith. He was calling her to give up everything. Leaving Islam for Christianity cost her more than she imagined but gave more than she could have dreamed.

Hiding in the Light is the story of Rifqa's remarkable spiritual journey from Islam to Christianity. It is also the untold story of how she ran from her father's threats to find refuge with strangers in Florida, only to face a controversial court case that reached national headlines. Most of all, it is the story of a young girl who made life-changing sacrifices to follow Jesus - and who inspires us to do the same.

Teens and young adults will be moved by Rifqa's story of standing up to religious persecution, literally giving up everything to follow her faith.

"Enrapturing heart and spirit, Rifqa masterfully shares insights into immigrant Muslim life, tearing the veil of mystery with the power of the gospel. Although chronicling her own account, her words echo the cries of young Muslim women worldwide, and manifest on each page is the signature of our sovereign God. Rifqa's story is authored by Jesus-come read what He's written." - Dr. Nabeel Qureshi, best-selling author of Seeking Allah, Finding Jesus and speaker with Ravi Zacharias International Ministries.

"An extraordinary glimpse into the faith of a Christ-follower and the sovereignty of God. Rifqa's story informs, inspires, and empowers." - Max Lucado, pastor and author.


"My story begins in Sri Lanka. I grew up in a Muslim home, a very devout Muslim home. I remember my father was one of the leaders of the mosque. Ever since I was a little girl, I remember being surrounded by Islamic culture and Islamic tradition; that is what I breathed... I had heard about Jesus in the sense that Jesus is a man. But I actually didn't know that you could become a Christian; I thought that you were born into it the same way that I was born into being a Muslim... What changed that is that one night I had a fight with my brother where I ended up being physically harmed and it was just, I was done. I emotionally felt broken to pieces and physically I was hurting and I was at the point of, okay if this is all life has to offer I don't want it. I'm done with life... And I remembered hearing from someone that I could pray, not in Arabic - because how you pray in Islam is that you pray in Arabic and I didn't know Arabic - but praying with my own heart, with my own words, like talking to God. That just astounded me. And so that night I got on my knees and I cried out, I said God, if you're real, show me who you are. If you're Buddah, if you're Allah, if you're Jesus, whoever you are - I remember weeping and crying - stop hiding from me! And I said, if this is the truth then I will give my life to it.
The biggest difference is love... It's a story of finding out the beauty of Jesus and, in that, leaving everything behind." - Rifqa Bary. https://youtu.be/8icfWaXL94w

You May Also Be Interested In
About "Hiding in the Light: Why I Risked Everything to Leave Islam and Follow Jesus"
Rifqa Bary grew up in a devout Muslim home, obediently following her parents' orders to practice the rituals of Islam. But God was calling her to freedom and love. He was calling her to true faith. He was calling her to give up everything. Leaving Islam for Christianity cost her more than she imagined but gave more than she could have dreamed.

Hiding in the Light is the story of Rifqa's remarkable spiritual journey from Islam to Christianity. It is also the untold story of how she ran from her father's threats to find refuge with strangers in Florida, only to face a controversial court case that reached national headlines. Most of all, it is the story of a young girl who made life-changing sacrifices to follow Jesus - and who inspires us to do the same.

Teens and young adults will be moved by Rifqa's story of standing up to religious persecution, literally giving up everything to follow her faith.

"Enrapturing heart and spirit, Rifqa masterfully shares insights into immigrant Muslim life, tearing the veil of mystery with the power of the gospel. Although chronicling her own account, her words echo the cries of young Muslim women worldwide, and manifest on each page is the signature of our sovereign God. Rifqa's story is authored by Jesus-come read what He's written." - Dr. Nabeel Qureshi, best-selling author of Seeking Allah, Finding Jesus and speaker with Ravi Zacharias International Ministries.

"An extraordinary glimpse into the faith of a Christ-follower and the sovereignty of God. Rifqa's story informs, inspires, and empowers." - Max Lucado, pastor and author.


"My story begins in Sri Lanka. I grew up in a Muslim home, a very devout Muslim home. I remember my father was one of the leaders of the mosque. Ever since I was a little girl, I remember being surrounded by Islamic culture and Islamic tradition; that is what I breathed... I had heard about Jesus in the sense that Jesus is a man. But I actually didn't know that you could become a Christian; I thought that you were born into it the same way that I was born into being a Muslim... What changed that is that one night I had a fight with my brother where I ended up being physically harmed and it was just, I was done. I emotionally felt broken to pieces and physically I was hurting and I was at the point of, okay if this is all life has to offer I don't want it. I'm done with life... And I remembered hearing from someone that I could pray, not in Arabic - because how you pray in Islam is that you pray in Arabic and I didn't know Arabic - but praying with my own heart, with my own words, like talking to God. That just astounded me. And so that night I got on my knees and I cried out, I said God, if you're real, show me who you are. If you're Buddah, if you're Allah, if you're Jesus, whoever you are - I remember weeping and crying - stop hiding from me! And I said, if this is the truth then I will give my life to it.
The biggest difference is love... It's a story of finding out the beauty of Jesus and, in that, leaving everything behind." - Rifqa Bary. https://youtu.be/8icfWaXL94w

- Koorong

The compelling personal story of a teenage girl who stood against her family's faith to convert to Christianity and who gave up everything in her flight from religious persecution. In 2009 the story broke in national media of a teenage girl who had run away from her Ohio home, claiming that her Muslim father had threatened to kill her for refusing to renounce her Christian faith. Her parents denied the charges and fought to have her returned home, but she became a ward of the state, placed into foster care until she was emancipated at age 18. Today that girl is a young woman still living in an undisclosed location, still convinced her life is under threat, and still passionate about following Jesus, despite the risks. Teens and young adults will be moved by Rifqa's story of standing up to religious persecution, literally giving up everything to follow her faith.
- Publisher


Meet the Author
Rifqa Bary
Rifqa Bary, a native of the Indian sub-continent, moved to the USA as a teenager. Her passions are prayer, studying the Bible, and serving the poor.
Customer Reviews For "Hiding in the Light: Why I Risked Everything to Leave Islam and Follow Jesus"
Write Your Own Review
Enlightening
By Jacqui,

Dec 01 2017
This biography shines a light on and gives you awareness for how dangerous it is for a Muslim to convert to Christianity. More than that though, it shows you the power of God in reaching His precious children and leading and loving them. Rifqa's courage and faith through the whole story is incredible and strong. This is a challenging book to read.
---
Insightful and Inpirational
By Mrs Ed,

Jan 04 2017
This book gave me a new insight into my limited knowledge of what it means to be born a Muslim into the Islamic faith. Rifqa had me eager to progress to the next chapter throughout the book as she described the complexities of her situation. I was inspired by Rifqa's persistence and unwavering faith despite the challenges she faced. Jesus is The Light of The World and this is Rifqa's story of how she came to know that truth. This could be a great read for a Christian of mature or long-term faith, yet also a great encouragement for those who are newer in their Christian Faith, or those who are uncertain about the power and presence of Jesus in their life. Highly Recommended! (Mid-teen to adult readers)
---
Excellent book - gripping. I could not put it down.
By Marian,

Dec 04 2015
This book had me from the first page.  It gave an insight into the life of a Muslim girl and her family.  The change in the attitude of the family to her when she sustained an injury which blinded one of her eyes, her walk away from Islam into Christianity all very well told.  When she had to actually run from her family in fear of her life it was so gripping I could not put it down.  A great book, I can recommend it most highly.  You will not be disappointed. 
{{review.title}}
By {{review.author.name}},

{{review.reviewCreatedDate | date:'MMM dd yyyy'}}

{{reviewdescription}}
{{review.text}}
---