High as the Heavens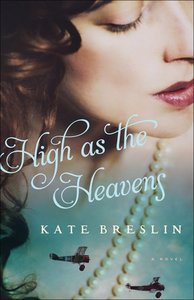 Page-Turning Intrigue and Romance from an Up-and-Coming Historical Romance Talent

In 1917, Evelyn Marche is just one of many women who has been widowed by the war. A British nurse trapped in German-occupied Brussels, she spends her days working at a hospital and her nights as a waitress in her aunt and uncle's café. Eve also has a carefully guarded secret keeping her in constant danger: She's a spy working for a Belgian resistance group in league with the British Secret Service.

When a British plane crashes in Brussels Park, Eve is the first to reach the downed plane and is shocked to discover she recognizes the badly injured pilot. British RFC Captain Simon Forrester is now a prisoner of war, and Eve knows he could be shot as a spy at any time. She risks her own life to hide him from the Germans, but as the danger mounts and the secrets between them grow, their chance of survival looks grim. And even if they do make it out alive, the truth of what lies between them may be more than any love can overcome.

- Publisher
You May Also Be Interested In
About "High as the Heavens"
Page-Turning Intrigue and Romance from an Up-and-Coming Historical Romance Talent

In 1917, Evelyn Marche is just one of many women who has been widowed by the war. A British nurse trapped in German-occupied Brussels, she spends her days working at a hospital and her nights as a waitress in her aunt and uncle's café. Eve also has a carefully guarded secret keeping her in constant danger: She's a spy working for a Belgian resistance group in league with the British Secret Service.

When a British plane crashes in Brussels Park, Eve is the first to reach the downed plane and is shocked to discover she recognizes the badly injured pilot. British RFC Captain Simon Forrester is now a prisoner of war, and Eve knows he could be shot as a spy at any time. She risks her own life to hide him from the Germans, but as the danger mounts and the secrets between them grow, their chance of survival looks grim. And even if they do make it out alive, the truth of what lies between them may be more than any love can overcome.
- Publisher


Meet the Author
Kate Breslin
A Florida girl who migrated to the Pacific Northwest, Kate Breslin was a bookseller for many years. Author of several travel articles, award-winning poet, and RWA Golden Heart finalist, Kate now writes inspiring stories about the healing power of God's love. She lives with her husband in Seattle, Washington. Learn more at www.katebreslin.com.