High Hurdles (Collection 2) (High Hurdles Series)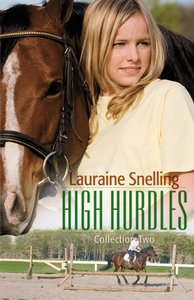 5-in-1 Collections for Horse-Loving Girls

DJ Randall's dream is to one day compete as a show jumper in the Olympics. With friends and family at her side, she faces the highs and lows of pursuing her goal, learning to trust God along the way.

Close Quarters
Now that DJ's mom, Lindy, has married Robert, their expanded family of five must squeeze into close quarters until their new house is ready. With the added pressures of school, art classes, and her growing responsibilities at Briones Riding Academy, DJ is ready to burst!

Moving Up
It's finally time to move into the new house, and DJ realizes she's leaving the only home she's ever known--and she's not ready to say good-bye. On the upside, DJ's biggest horse show yet is coming up, and the overwhelming support from her family leaves her nearly speechless.

Letting Go
DJ never imagined she'd have so much support behind her as she pursues her dream of jumping in the Olympics. But as she begins to compete in A-rated shows, everyone tells her she needs a better horse. How can DJ give up Major, the sweetest, most willing horse ever?

Raising the Bar
DJ couldn't be busier--or happier. As her fifteenth birthday approaches, she's active in summer art classes in the city and training at the Academy with a top-notch horse. The highlight, though, is a week of mentorship at the U.S. Equestrian Team's training camp.

Class Act
DJ faces a long and painful recovery after a tragic barn fire leaves her hands severely burned. After her release from the hospital, catching up on life seems nearly impossible. But her greatest hurdle is mounting a horse again. Will she ever be strong enough to compete in the Olympics?

- Publisher
You May Also Be Interested In
About "High Hurdles (Collection 2) (High Hurdles Series)"
5-in-1 Collections for Horse-Loving Girls

DJ Randall's dream is to one day compete as a show jumper in the Olympics. With friends and family at her side, she faces the highs and lows of pursuing her goal, learning to trust God along the way.

Close Quarters
Now that DJ's mom, Lindy, has married Robert, their expanded family of five must squeeze into close quarters until their new house is ready. With the added pressures of school, art classes, and her growing responsibilities at Briones Riding Academy, DJ is ready to burst!

Moving Up
It's finally time to move into the new house, and DJ realizes she's leaving the only home she's ever known--and she's not ready to say good-bye. On the upside, DJ's biggest horse show yet is coming up, and the overwhelming support from her family leaves her nearly speechless.

Letting Go
DJ never imagined she'd have so much support behind her as she pursues her dream of jumping in the Olympics. But as she begins to compete in A-rated shows, everyone tells her she needs a better horse. How can DJ give up Major, the sweetest, most willing horse ever?

Raising the Bar
DJ couldn't be busier--or happier. As her fifteenth birthday approaches, she's active in summer art classes in the city and training at the Academy with a top-notch horse. The highlight, though, is a week of mentorship at the U.S. Equestrian Team's training camp.

Class Act
DJ faces a long and painful recovery after a tragic barn fire leaves her hands severely burned. After her release from the hospital, catching up on life seems nearly impossible. But her greatest hurdle is mounting a horse again. Will she ever be strong enough to compete in the Olympics?

- Publisher
- Koorong

Fourteen-year-old DJ Randall wants nothing more than to compete as a show jumper in the Olympics. The challenges that stand in her way only spur her to work harder toward her dream. Whether it's mucking out stalls and hosting pony parties to earn money to buy her first horse or navigating the changing family dynamics at home, DJ relies on her faith in God to see her through the most daunting obstacles. Collection Two includes Close Quarters, Moving Up, Letting Go, Raising the Bar, and Class Act.
- Publisher


Meet the Author
Lauraine Snelling
Lauraine Snelling is an award-winning author of over 50 books including The Healing Quilt, The Way of Women, and Saturday Morning. The recipient of the Silver Angel Award and a Romance Writers of America Golden Heart, she also writes for a wide range of magazines and teaches at writers' conferences across the country. She and her husband make their home in Tehachapi, California.
-Publisher.