Highway to Hell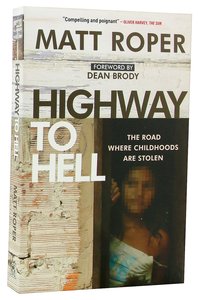 Brazil's BR-116 motorway has been described as the worst road in the world. According to the Brazilian government, a child is sold for sex every ten miles. Thousands of young girls, some as young as nine, are forced to sell their bodies to truck drivers to bring money home to their families. Businessmen and politicians organize child prostitution rackets. The girls refer to the 2,700-mile motorway as the 'Highway to Hell'. Their childhoods are stolen there, and many are trapped in unimaginable abuse and violence. Highway to Hell documents this untold tragedy in the form of a journey along the motorway. Matt Roper meets the girls and hears their stories; he encounters the truck drivers, pimps, brothel owners and traffickers - and the brave souls who are trying to make a difference. This passionate book is also highly personal as Roper grapples with what his Christian faith has to say about the things he encounters and discovers how God wants him to respond.

- Publisher
You May Also Be Interested In
About "Highway to Hell"
Brazil's BR-116 motorway has been described as the worst road in the world. According to the Brazilian government, a child is sold for sex every ten miles. Thousands of young girls, some as young as nine, are forced to sell their bodies to truck drivers to bring money home to their families. Businessmen and politicians organize child prostitution rackets. The girls refer to the 2,700-mile motorway as the 'Highway to Hell'. Their childhoods are stolen there, and many are trapped in unimaginable abuse and violence. Highway to Hell documents this untold tragedy in the form of a journey along the motorway. Matt Roper meets the girls and hears their stories; he encounters the truck drivers, pimps, brothel owners and traffickers - and the brave souls who are trying to make a difference. This passionate book is also highly personal as Roper grapples with what his Christian faith has to say about the things he encounters and discovers how God wants him to respond.
- Publisher


Meet the Author
Matt Roper
Matt Roper is a journalist working in the human rights field. He is also author of the No.1 best-seller Street Girls.