His Needs Her Needs (5 Cds)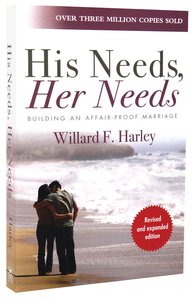 BUILDING AN AFFAIR-PROOF MARRIAGE
Also Available In
5 CDs360 Minutes

- Publisher How can couples experience a lifetime of passion and fulfillment in marriage? By identifying each other??'s most important emotional needs and developing habits to meet them. This is the basis for two books from best-selling author Willard Harley. Now it??'s easy for couples to learn together from these books???for the first time they can listen to five unabridged CDs of the widely popular His Needs, Her Needs, or to four unabridged audiotapes of Fall in Love, Stay in Love (read by the author). With these tools, spouses will learn about the Love Bank, how to cultivate passion, and how to resolve marital conflict.

- Publisher
Also Available In
You May Also Be Interested In
About "His Needs Her Needs (5 Cds)"
5 CDs360 Minutes
- Publisher

How can couples experience a lifetime of passion and fulfillment in marriage? By identifying each other??'s most important emotional needs and developing habits to meet them. This is the basis for two books from best-selling author Willard Harley. Now it??'s easy for couples to learn together from these books???for the first time they can listen to five unabridged CDs of the widely popular His Needs, Her Needs, or to four unabridged audiotapes of Fall in Love, Stay in Love (read by the author). With these tools, spouses will learn about the Love Bank, how to cultivate passion, and how to resolve marital conflict.
- Publisher


Meet the Author
Willard F Harley (Jr)
Willard F. Harley, Jr., is a nationally acclaimed clinical psychologist, marriage counselor, and bestselling author. His popular website, www.marriagebuilders.com, offers practical solutions to almost any marital problem. Dr. Harley and his wife, Joyce, host a three-hour live radio call-in show called Marriage Builders Radio, and they host Marriage Builders Weekends across the country. They live in White Bear Lake, Minnesota.
Customer Reviews For "His Needs Her Needs (5 Cds)"
Write Your Own Review
Recommended
By Lydia,

Nov 16 2016
This book is highly recommended as Harley provides an insightful and informative guidance on the importance of meeting the unique needs of a partner within a marriage.

In the introductory chapters of the book, Harley discusses concepts such as an invisible "love bank" that exists in the mind of every partner in a marriage with "love deposits" that must be made into the account in order to achieve a sustainable marriage. Harley argues that each partner must meet and fulfil the unique needs of each partner in order to "bullet proof" a marriage against an affair. 

Harley discusses the gender based needs of a woman's needs, i.e. "Her needs" in the chapters including affection, intimate conversations, open and honesty, and receiving financial support from her partner. Harley also discusses the male requirements from a partner, i.e "His needs" of sexual fulfilment, recreational companionship, physical attraction, domestic support and admiration from his partner. 

---
Great
By Grace,

Jul 14 2016
A great read into the difference between the way male and female value different love languages and the importance of understanding your partner fully and loving them effectively. Great tools for building and strengthening relationships! 
---
Stretching
By Bri,

Apr 23 2015
In His Needs, Her Needs, William has really opened the eyes of the viewer to see the needs of the other person. He hasn't simple painted a stereotypical malefemale in order to open the viewers eyes, but has rather built a series of understandings which helps you to appreciate the differences and how you need to see the other person as they are and their needs, not the needs you place upon them. 
He encourages unity, and rather than giving a strict list of does and don'ts encourages the reader to apply it to their individual situation and rather use the tools he supplies to approach each individual situation with open eyes and a willing heart. 
{{review.title}}
By {{review.author.name}},

{{review.reviewCreatedDate | date:'MMM dd yyyy'}}

{{reviewdescription}}
{{review.text}}
---