His Surprise Son (Love Inspired Series)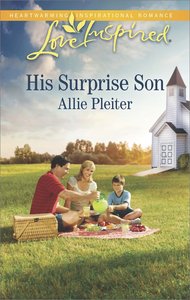 Mayor with a past...faced with her son's father!Mayor Jean Matrim's plan to turn Matrimony Valley into a wedding destination is going swimmingly for the town - and disastrously for Jean. Their first bride's stepbrother is Jean's ex-fiancé...and the father of her son. Hiding Jonah's existence from Josh Tyler wasn't something Jean chose lightly. More stands between them now than ever before. Will the little boy be enough to bring them together at last?

- Publisher
You May Also Be Interested In
About "His Surprise Son (Love Inspired Series)"
Mayor with a past...faced with her son's father!Mayor Jean Matrim's plan to turn Matrimony Valley into a wedding destination is going swimmingly for the town - and disastrously for Jean. Their first bride's stepbrother is Jean's ex-fiancé...and the father of her son. Hiding Jonah's existence from Josh Tyler wasn't something Jean chose lightly. More stands between them now than ever before. Will the little boy be enough to bring them together at last?
- Publisher


Meet the Author
Allie Pleiter
An avid knitter, coffee junkie, and devoted chocoholic, Allie Pleiter spends her days writing books, doing laundry, running carpools, and finding new ways to avoid housework. She grew up in Connecticut, holds a BS in Speech from Northwestern University, spent fifteen years in the field of professional fundraising, and currently lives in suburban Chicago, Illinois.
Other Titles In The "Love Inspired Series" Series View All
$8.99

$7.19




Available Now. 25+ Available

$8.99

$7.19




Available Now. 25+ Available

Formats